EXTENDED TO 30 JANUARY  2022 ROCK POSTERS from the fabulous collection of Nick Vukovic are on display at Docklands, Melbourne. Read more in this report from Beat.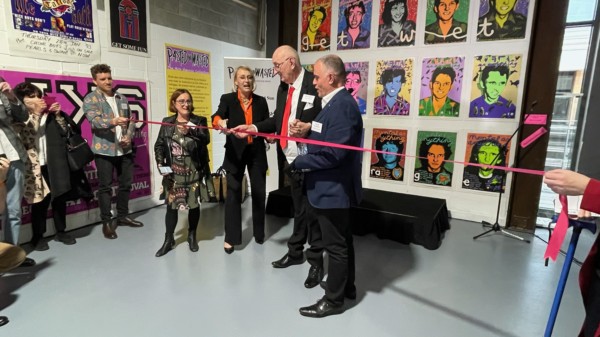 The Age reports Nick and a rock fan planned: 
an exhibition of up to 10,000 posters, as well as badges, stickers, fliers and more, featuring Australian artists.

Among the collection – which only features original prints – are posters for the Sunbury Music Festivals from the 1970s, INXS at Heathcote Oval in 1984, Crowed House at Festival Hall in 1987 and multiple Big Day Out festivals from the 1990s to 2010s.

Artists include AC/DC, Midnight Oil, Nick Cave, Skyhooks, Julia and Angus Stone, Hunters and Collectors, Men at Work, Cosmic Psychos, Temper Trap, Hilltop Hoods, Spiderbait, Gurrumul and Kylie Minogue.

Photographs by Mimmo Cozzolino, who attended the opening with ESA member Grant S., who Mimmo advises assisted Nick at the start of this project.