The Ephemera Society of Australia Inc. (ESA) 

The Ephemera Society of Australia is a longstanding association of individuals bound by their personal and professional passion for collecting ephemera.
HISTORY
ESA was formally established in August 1987 to unite collectors in Australia. It came about through the efforts of a visiting museum curator, Honor Godfrey, who was an organiser and member of the English Society. Honor was a paper bag collector. She was an inspirational leader and in Melbourne in late 1986, she gathered together a small group to investigate interest in setting up a society here for collectors. The first meeting was attended by Andy McGuigan, Colin Duggan and Murray Walker. (Murray was the innovative curator of two great recent exhibitions, Colonial crafts of Victoria at the National Gallery of Victoria in 1979 and more importantly The Great SIO exhibition at the Museum of Victoria in 1985 (a sesqui-centenary exhibition for Victoria). A month later as momentum grew, Mimmo Cozzolino, designer and author of Symbols of Australia (1980) joined the group.

Honor and her team decided to launch an Australian ephemera society with: a newsletter, The Ephemerist; an exhibition at the Queen's Hall at the State Library of Victoria; and the first ephemera of the ESA – a poster and a combined brochure and membership application form.
Meanwhile at the State Library of Victoria, the reception for the proposed ESA was very warm because the Picture Librarian Christine Downer was building on a treasure trove of postcards, invitation, tickets and other ephemeral items already in the Picture Collection.
Right from the start there was debate about the merits of using the term ephemera – what does it mean? The first membership inquiry form ESA produced asked people to consider joining 'the whatsy which society'.
Grand Ephemera Fairs
The twice yearly ephemera and collectables' fairs in Melbourne have been the one constant in ESA activities. Irrespective of venue, the fairs have provided collectors with an ongoing, lively forum for treasure seeing, sharing information and catching up with fellow enthusiasts.
The fair was first held in the Swanston Street foyer of the State Library of Victoria. When the fair outgrew the library, it moved to the Malvern Town Hall, a well recognised location for antique and collectables fairs. The town hall was proximate to many antique, collectables and bookshops. As well as the trading of ephemera, ESA was also able to offer a valuation service courtesy of Rick Milne.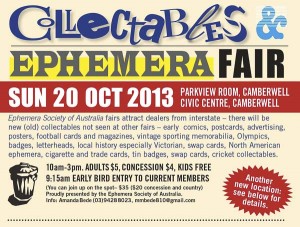 The  ESA looked for a new location in March 2013 and moved to the Kew Heights Sports Club. This was followed by a relocation to the Parkview Room in the Camberwell Civic Centre, convenient to the Camberwell Sunday Market.
The fairs' success over the years has been due to the quality of the material on offer, the expertise of stallholders, the range of material and the goodwill of many members of ESA. Those running the fairs have included: Alan Waters, Honor Godrey, Kris Waters and Garry James. With assistance from David Harris, Mick Stone and Grant Shallard (publicity).
Publications
The ESA has always produced its own well designed ephemera. And in this regard has always benefited from the efforts of Melbourne designers (including Mimmo Cozzolino,  Phil Ellett, Natasha Dumais, Andrew Budge, et al.) and design students from Swinburne University.

The ESA has been determined that its publications be collectable. Much to the inconvenience of libraries and binders, Ephemera News has not maintained a standard size and has been published in many formats – printed on a paper bag, as a poster, folded like a napkin, reproducing a 45 record, with a hand delivered wine stain. Ephemera News ceased production in 2015 after #50 (Note #51 was published earlier in 2014)  and was superseded by the Ephemera Journal of Australia – a full colour publication. 
Other publications have included a Christmas badge, posters, tickets, membership cards, letterhead and a bumper sticker that was included with the bumper issue of Ephemera News.
Exhibitions
The ESA's opening exhibition 'What is ephemera?' was a great success and drew on the strengths of members and their collections. Some of these early members were set designers who ensured that the collections were beautifully displayed. Our second exhibition 'Growing up in Australia' was in 1988 also at the State Library of Victoria. In 2016 we presented 'Cabinets of Wonder' at the Royal Historical Society of Victoria (RHSV). This exhibition showcased a colourful and eclectic mix of members' collecting passions.

Meetings begat conferences begat symposia
Collectors like to talk about their collections and learn about ephemera. To this end the ESA under Honor and then Kris Waters maintained a programme of 'show and tell' meetings with the occasional formal talk from an expert or visit to a site (Spicers Paper and Sands Cards).
This culminated in a conference at the Meat Market in Melbourne with a range of collectors and historians speaking. We also saw designer Trevor Flett's fabulous film about a collection of smiles. This longer event gave collectors a better opportunity to hear about and talk about collecting. Since 2002, the Society has hosted annual, one-day symposia featuring illustrated talks and lively discussion.