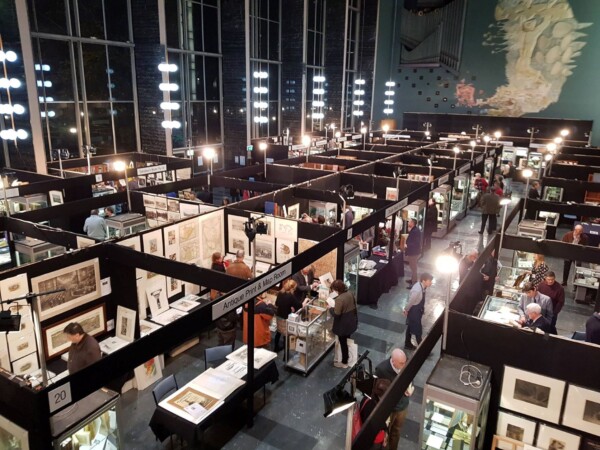 ANNUAL EVENT = ITS BEEN AND GONE FOR 2023
FROM  6pm on Thursday 27th July 2023 at Wilson Hall, University of Melbourne. THE RARE BOOK FAIR (AND THAT INCLUDES PLENTY OF EPHEMERA) and that entry is FREE.
The Fair is the final event in Melbourne Rare Book Week which starts today, 21 July. The Rare Book Week program can be seen here. There are still tickets available for some of the events.
WHEN: Thursday 27th July 6pm – 9pm
Friday 28th July 10am – 5pm
Saturday 29th July 10am – 4pm
FREE ENTRY
WHERE Wilson Hall, University of Melbourne
As for the Fair, we are very excited to announce that we have 25 exhibitors including two high profile international exhibitors from London, Peter Harrington, and Sokol Books. You can browse the exhibitors and see their highlights at www.rarebookfair.com. There will be a wonderful cornucopia of rare books, maps, prints, ephemera to suit all tastes and levels of collecting.
As in past years:
there will be a pop-up Café at Wilson Hall so that you can make a day of the Fair. This year the Café will be provided by Café Florian.

there will be a $500 door prize to be won by one lucky attendee who completes a visitor survey and joins (or rejoins) the ANZAAB mailing list.
This year, we are also excited to announce a new innovation, free guided tours of the fair to small groups of interested attendees. The tours will be hosted by retired special collections librarians from some of Australia's leading institutions and senior members of the rare book trade. The tours can be booked from the front page of the Fair website www.rarebookfair.com. The tours are free, but bookings are essential.
Please tell your friends and family about the fair. We hope that we will see you there!