TWO MENUS HAVE FEATURED IN NEWS STORIES RECENTLY both of interest to collectors.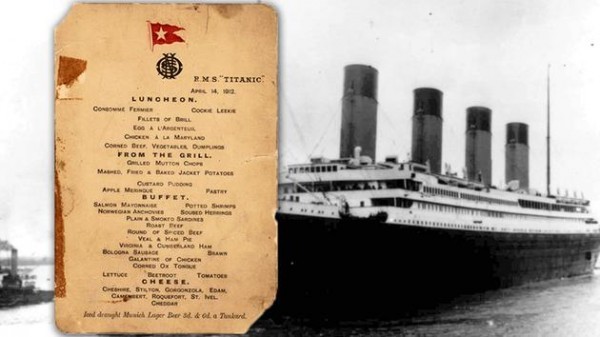 From the ABC website:
A menu for the last luncheon served to the first-class passengers aboard the ill-fated Titanic has sold for $US88,000 (about $125,177) at an online auction.

The menu, saved by a first-class passenger, was sold on Wednesday to a private collector, Auctioneers Lion Heart Autographs said.

The price was in line with pre-sale estimates.

Stamped with a date of April 14, 1912 and the White Star Line logo, the menu included: grilled mutton chops; custard pudding; corned ox tongue; mashed, fried and baked jacket potatoes; a buffet of fish, ham and beef; an apple meringue pastry and a selection of eight cheeses.

Lion Heart Autographs said the menu was saved by Abraham Lincoln Salomon, one of the passengers who escaped on the "money boat" lifeboat that was filled with wealthy people.

It was offered for sale by an unidentified person who was given some Titanic items by a descendant of one of the lifeboat survivors.

It is thought to be one of only three or four menus from the ship's last lunch that still exist.
From the Smithsonian website:
Jacques Pepin celebrates his 80th birthday with the publication of a new cookbook, Heart & Soul in the Kitchen.

Pépin has cooked, tasted and nibbled his way through more than two dozen cookbooks and innumerable television shows, and among the most beloved was "Julia and Jacques Cooking at Home" with the indomitable Madame Child. He created countless dishes in Julia's iconic kitchen, whose delightfully anachronistic pegboards and beautiful copper pots are now on display at the National Museum of American History in Washington, D.C.

The duo's nonstop light-hearted bantering became a storied part of their collaboration. Be it a debate about if the proper way to begin cooking a chicken dish—wash the bird or not. Or whether or not to squeeze water out of spinach. These small disagreements became their signature. (For the record, Julia firmly insisted that Jacques' boil-and-squeeze spinach method resulted in a "slight bitterness.")

 "People always talked about the way Julia and I would argue on the show," Pépin recalls. "She liked white pepper; I liked black pepper. I liked kosher salt, she didn't. But really, you know, these were small differences, just for fun. We did agree on what's important: the family sharing a recipe, the value of the best possible ingredients, the emphasis on taste more than presentation."
This is the donated menu, lovely.