HERE IS A LOVELY ADVERTISING IDEA FROM 1937. The Australian Aviation Schools (Victorian Branch) had a lovely idea about how to advertise services in Melbourne.
The aviation school, and its parent company a radio engineering school, were Sydney based business. To mark the establishment of the Melbourne office (at 386 Flinders Lane), they had the bright idea of dropping their flyers from an aeroplane flying over places including the inner city suburb of Richmond. (Our source of information is a letter written to the Town Clerk of Richmond.)
It was not the first time for this form of advertising – an aerial pageant was being advertised with the same type of 'distribution'. Here are the flyers they proposed sprinkling over Melbourne suburbs. While the idea of the advertising is surprising, more so is the plan to teach aviation (presumably how to fly) to students in their homes.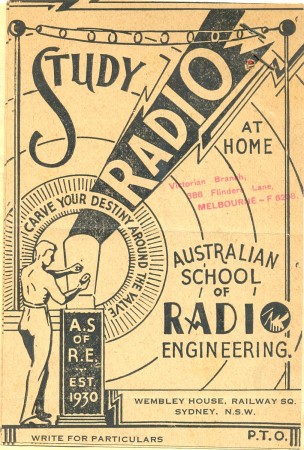 Thanks to Brian Watson for sharing these pieces of ephemera, and so history, from his collection.