AN AFTERNOON TALKING ABOUT EPHEMERA, SATURDAY 23RD JULY 2022, 12.45 PM TO 5.00 PM
WHERE: Camberwell Uniting Church, 314 Camberwell Road, Camberwell
Car parking and entry to church from Reserve Road
12.45 – 1.10 REGISTRATION AND WELCOME
1.10 – 1.25 Liebig Cards – An Outbreak of Colour:
Tim Glanville discovered Liebig cards about 30 years
ago and was amazed by how colourful they were. When travelling in Europe Tim would look for
cards as they are not common in Australia. The cards were produced for Liebig meat extract.
1.25 – 2.05 What Use is Military Ephemera?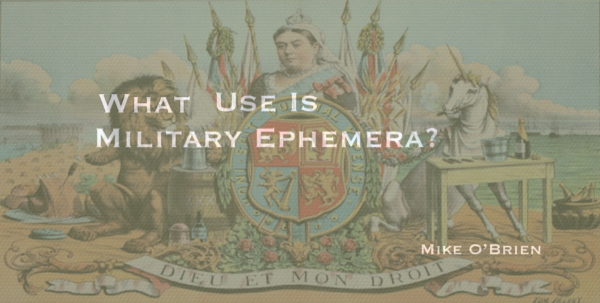 Mike O'Brien had a 40-year career in the Army.
He owned Bradstreet's Books in Hawthorn for 17 years. In recent years he has run the
publicly-accessible military library of The Royal United Services Institute of Victoria
(RUSIV). His talk will look at collections, particularly that of the RUSIV, and it will offer
some challenging conclusions.
2.05 –2.45 Italian political, military and civil Identity and membership documents 1919 – 1945.
Hugh Taylor worked in insurance at Lloyd's and lived in various countries, including
33 years in Milan. He began collecting Italian identity documents in 1965 and accumulated
15,000 documents, which is probably the largest collection in the world. At the time
identity documents were essential for all aspects of life in Italy.
2.45 – 3.25 Afternoon tea and time for a chat
3.25 – 4.05 Miniature Worlds and Wonders:
Dr Annette Shiell is a curator and historian with a background
in art and craft, Australian history and popular culture. The recent exhibition Doll House:
Miniature Worlds of Wonder showed intricate and tiny recreations of everyday life. These
miniature worlds document social and design history over time. This talk will explore these
miniature worlds, highlighting tiny ephemeral treasures.
4.05 – 4.45 Cricket Ephemera Collecting – there is no end game!
Steve Flemming has been involved with
cricket for five decades. He has researched, recorded, written about and now avidly collects
material of all types associated with cricket. Steve will cover a cross-section of items showing the enormous spread of
collectible material produced by the sport.
4.45 – 5.00 Discussion and finish – ideas for next year