PASSPORTS FOR CAR TRAVELLERS, what's this?
A Trove search dates the passport in the early 1960s as there are advertisements referring to it published in from 1960 to 1962.
One of the quizzes asks the name of the US president, the answer is Ike; Dwight (Ike) Eisenhower was president of the United States of America from January 1953 to January 1961. Further, one of the games suggests that participants look out for landmarks over a disatnce of 10 miles. There is no hint of the switch to kilometres.
So we have dated the passport at circa 1960.
From the Canberra Times, 14 March 1960.
"Dad got me a Shell passport for our Easter trip!"

"It's a beaut idea! Every time Dad stops at a Shell Station, I'll ask the man to stamp my passport. Some of the kids at school have got passports, too, and we're going to see who gets the most stamps over Easter. There are also some other games in it. Mum says these ougnt to keep us out of Dad's hair when he's driving. He's lucky, too. He got some beaut maps and stuff like that all FREE. I reckon we won't get lost again this Easter. Dad says all you've got to do is see your Shell Dealer for all the FREE touring aids. And always use . . ,

SUPER SHELL, THE BEST PETROL IN AUSTRALIA — IT'S GOT I.C.A.

TS60I/42 THE SHELL COMPANY OF AUSTRALIA LIMITED
The 'passport' like the real thing seeks information in English and French. Our holder was a comedian – see the information about name, age and sex.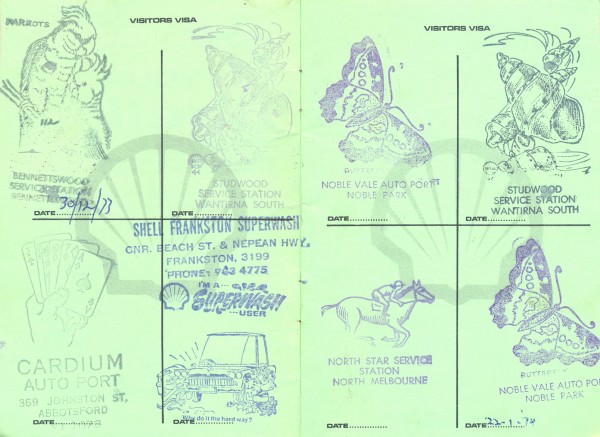 Travel has been to Abbotsford, Bennetswood, Frankston, North Melbourne, Noble Park, Wantirna South.
Now the dates that stamps were entered challenge our dating of the 'passport', travel was in late 1973 and early 1974. It looks like the passport was either long lived or revived. It is hard to believe that busy petrol station staff embraced the stamping of passports, but if the novelty was revived in the 1970s, it must have been successful.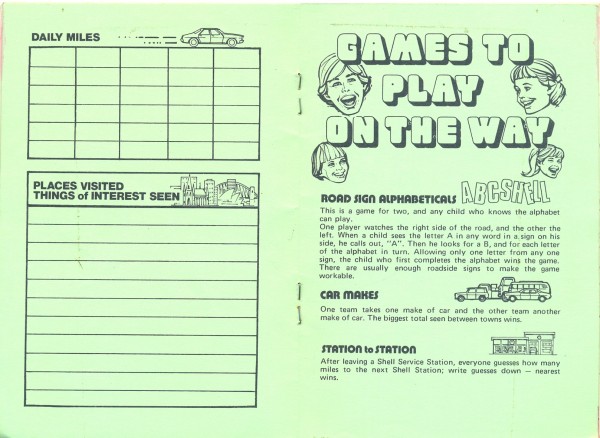 These games actually arise out of the travel – counting makes of cars on the road, using road signs as the basis for a competition and guessing the distance between petrol stations. While not wildly imaginative, these games get the children to observe the road.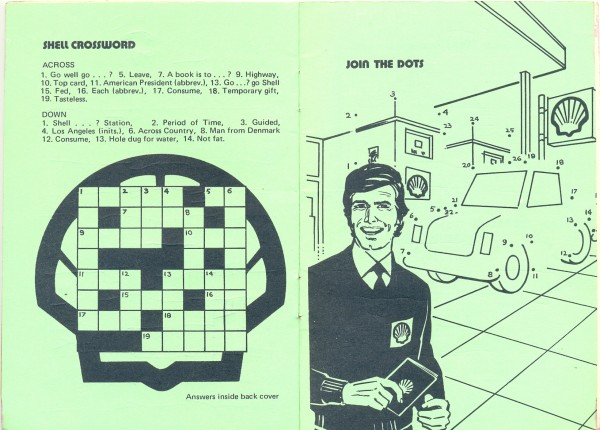 Here are some of the activities for kids in the booklet. These are not original and part of a long tradition of 'dot to dot' and crosswords.