ARE GREETING CARDS EPHEMERA? The answer used to be a resounding 'yes'. Is that still so? In light of today's more common and much more ephemeral means of communication, emails, SMS, twitter, the telephone call, the greeting card looks less transient.
Here are some recently purchased examples, almost all work of Australia based designers. 
Inaluxe website advises:
Inaluxe is an independent art studio combining the talents of fine artists Kristina Sostarko and Jason Odd.

Kristina originally started Inaluxe in 2006 as an online presence for various design projects. Over time Jason joined Inaluxe allowing the duo to not only combine their talents, but also the chance to explore the ideas and concepts they first talked about in art school where they first met.  As a result, in early 2010 Inaluxe shifted home base from a city environment to the tranquil setting of a small town home studio close to the Grampians National Park.
Flowers are of course a common subject for the greeting card. This card goes beyond the standard with the patterning of the flowers and two origami butterflies. This company began in 2008 with a group of friends with a variety of artistic bents and backgrounds. See My Short Story website.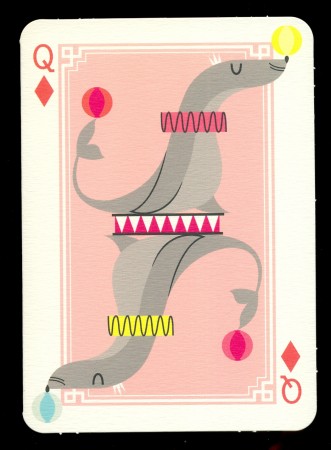 From I ended up here website:
TRAVEL PLAN With little fanfare, I Ended Up Here quietly creates.  Combining a passion for imaginative illustration and quality design, our creative paper products fuse original elements with stylish, light-hearted illustration.

EN-ROUTE Travelling through a BA(HONS) Design in the UK and enjoying a brief layover at a German Art University, Creative Director Dan Adams then began his Australian leg.  For more than 10 years, Dan has been selling illustrated concepts and working on commissioned design projects for companies such as Fred Bare, Aussie Bum, Seafolly and Saba.  I Ended Up Here launches his own design aesthetic.

LOCAL DIVERSION We love Australia!  It is important to support our local industry so I Ended Up Here strives to create an Australian made product.  We are proud to work with local printers and Australian companies right throughout the design process, from initial concept and sampling, to production and distribution.
This is one of a series of cards using the backdrop of Melbourne railway stations – the other cards include Sunshine railway station. The Able And Game website website advises:
Able And Game is a stationery label that aims to create greeting cards that stand out from the crowd. Launching in February 2009 with a unique range of Valentine's Day cards, Able and Game used humour and real sentiment to convey messages that are quirky, poignant and personal. The Able and Game collection is always expanding, with cards to celebrate birthdays, Mother's Day, Father's Day and generally just to brighten people's days.

The cards feature hand drawn designs with references to pop culture and trends that people easily identify with. The statements made on the cards have people nodding and laughing in agreement and the illustrations are drawn by hand, giving the cards an innocent quality that harks back to the day when you used to draw cards yourself.

The creative team behind Able and Game are husband and wife Gareth Meney and Anna Blandford; Anna is the illustrator and Gareth works on the technical side.
Don't judge a card's origins by the maker's name – Marsupial paper and pouches
This is a small card with humorous detail on the lower sign – football message on the message board.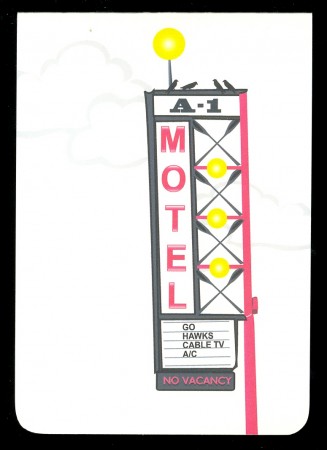 No, we aren't Australian. We are Seattleites who felt that the stationery world and the world of mammals particular to Australia should somehow coincide. Inspired by mammals such as the kangaroo, we thought, why can't stationery have pouches too? So we created our very own paper version—a small folder with a pouch. Then we made a whole bunch of sizes and shapes…then we added envelopes…then we added papers…well, you get the picture.

Marsupial Pouches & Papers is an innovator of wedding invitation style and design.