AUTHOR AND COLLECTOR KEN PIESSE WILL BE AT THE EPHEMERA & COLLECTABLES' FAIR ON OCTOBER 19 WITH AN ARRAY OF CRICKET AND FOOTBALL COLLECTABLES.
SUNDAY 19 OCTOBER 2014, STARTS AT 10 FOR PUBLIC, 9.15 FOR MEMBERS.
At the Parkview Room, Camberwell Civic Centre, 340 Camberwell Road, Camberwell – best entry from near corner of Reserve & Camberwell Rds. LOOK OUT FOR KEN PIESSE'S STALLS IN THE FOYER.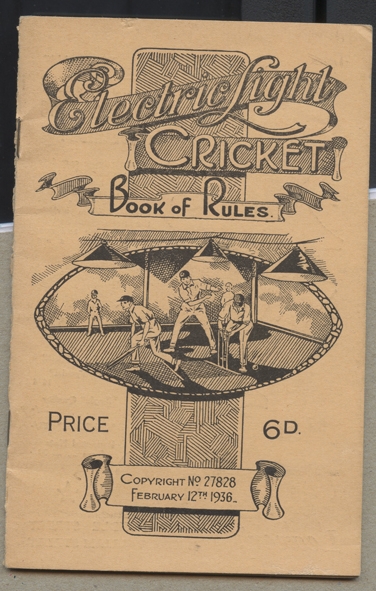 KEN PIESSE ON THE THRILL OF THE HUNT 
A recent trip to Bowral and the Bradman Museum produced the normal 'stopping-at-stations' collecting journey, from Goulburn to Berrima and beyond. My wife of 36 fun-filled years Susan says I can smell a secondhand bookshop from miles away – thanks to iphone maps I almost can.

While this hunting trip produced only a modest return – there were no 1822 Bentley's or late 1860s Hammersley's in any of the shop windows, it has still been a very good year.  And some rather delightful ephemera items currently take pride of place in my library:

    * Three Queensland Cricket Association match magazines, including a 32-pager dated 

Friday, 23 November

 published for the very first post-war match of them all between Bill Brown's locals and Sid Barnes' visiting New South Welshmen in late 1945;

'Queensland Cricket Association Official Programme', 1945. Collection of Ken Piesse.

    * The Electric Light Cricket Book of Rules, Adelaide, February 12, 1936;

   *  The Jock Livingstone Testimonial Handbook (1955) with contributions by Sir Donald Bradman, John Arlott and Len Hutton;

    * Wells Cartoons, sporting, political and general by the long-time Melbourne Herald cartoonist SG (Sam) Wells (the 1932 edition)

The QCA match souvenirs are my personal favorites and are in excellent condition despite their paper covers. They includes profiles of each of the 1945-46 squads as well as a complete record, player-by-player of every Queensland cricket team from 1893-1941 and features on Cecil Thompson, Charlie Barstow, Percy Hornibrook, Ron Oxenham and other local greats.

Local radio statio 4BK proudly announces it will be providing descriptions of the match: 'With the end of the war, cricket has again caught the public fancy. Big numbers are sure to be present each day to again see the champions in action… 4BK, ever to the front in services to listeners, have made arrangements with the QCA to broadcast a ball by ball description of today's match. Mr John Dimmock, Southern Suburbs opening batsman, has been engaged as commentator….'

The many local advertisements range from McWhirters sports stores on the front page to Tritton's tailor-made Mosquito Nets and Home Furniture on the back.

The game was also a beauty, attracting 12,000 fans on the Saturday and 30,500 overall, the locals successfully chasing 270 to win outright six down on the final day.

The tiny Electric Light Cricket Book of Rules is a gem. Teams from 10-18 were allowed, with 12-ball overs and 36 overs an innings – 'intervals to be mutually arranged by the Captains'. Only tennis balls were allowed.

Jock Livingstone was one of the many fine Australian players to forge professional careers in England post-war. In a foreword, the Don writes of him: '(Jock) is a true thinker and one of the many who have adorned this great game as a star adorns the night sky. The moon may dominate the scene but without the myriads of stars there would be no beauty in the night.'

Unlike the early items mentioned, my copy is knocked around and missing its back cover but it's now safe in a clear, acid-free plastic sleeve from Zetta Florence in Fitzroy.

Sam Wells was the high-profile news artist from the Melbourne Herald in-between the wars, his daily offerings never ceasing to delight. My favorite concerns Billy 'Puddin' Ponsford and his epic quadruple at the MCG in the early '20s, where Wells depicts Bill running so hard and so often up and down the wicket that it gradually sinks under his weight. Classic.

'Wells cartoons – political and sporting'. Collection of Ken Piesse.

 * On October 19, I will also have HARDBACK copies of my latest limited edition football book Miracle Match available. Just 63 were produced. Only 10 remain. They are signed by Kevin Murray, Fitzroy's greatest ever playing son. They are $60e. I am hoping to also have my new cricket book,  Favourite Cricket Yarns available. It is $35.