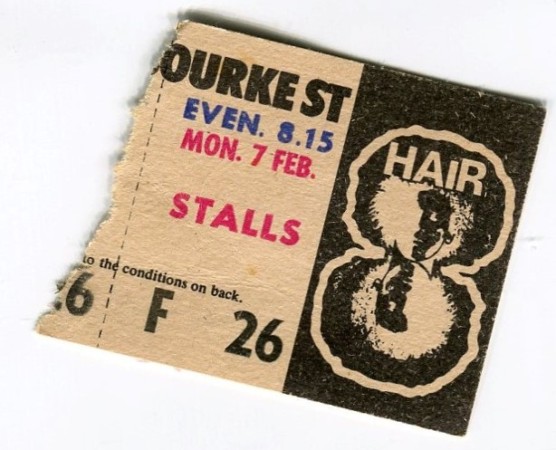 GOING TO THE THEATRE NOW CAN BE A PAPERLESS EXPERIENCE, THE TICKET IS SCANNED FROM YOUR PHONE AND YOUR THEATRE PROGRAM IS DOWNLOADED. IS THIS AS MUCH FUN? Not compared to this ticket for Hair.
This is a nice programme from the inaugural season of the resident professional company at the Alexander Theatre, Monash University, Puckoon. The company included Terry Norris, Gary Gray and Julia Blake.
Also from Melbourne, a cheap souvenir program for True Romances: an edible affair starring The Busby Berkleys with Peaches Lacreme and the Stuffed Puppet Co. at the Last Laugh in Smith St Collingwood, Victoria. This was very much a 70s moment.
This is a simple program, folded pink paper, maybe free as there is no price printed on it.
This ephemera can include information about the theatre space; here is an example about Her Majesty's Theatre, Melbourne. This is from around 1974, as the guide refers to the 100th anniversary of J.C. Williamson Theatre Ltd in that year. (The folded brochure is 20.5x26cm.)