WHAT IS THE CORRECT TERM FOR THIS LARGELY OBSOLETE ITEM – BLOTTING PAPER OR BLOTTERS? This type of ephemera presents a wonderful surface for advertising. We pick up some of the themes from the collection by showing you a selection from the collection of Andrew H.
Andrew selected his favourite – he likes this very busy blotter which is a souvenir from the Hinkler flight in February 1928. As he commented, you almost don't see the advertisements for Forex and Golden Crust.For more about Bert Hinkler read these informative biographical notes.
 Children and money
Children figure frequently on blotters. This design from a bank seems more likely to tug at the heart of Dad rather than to urge a small boy to start saving. We have dated it around 1950s-60s because of the boy's clothing and also the starts between A, N and Z which appear in newspaper advertising of 1956.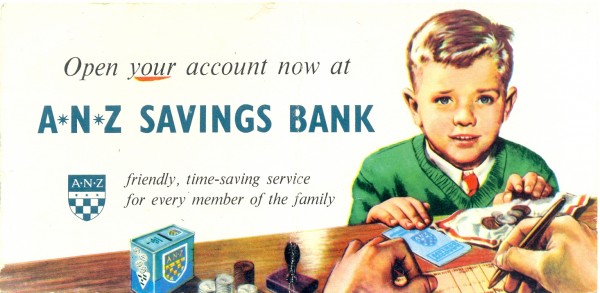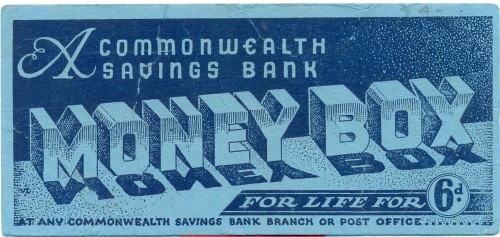 It looks like one had to pay for the Commonwealth money box with this scary warning to save; probably from the 1950s.
This is a cheerier blotter also from the Commonwealth Savings Bank; a quick search of Trove newspapers shows that the Bank started a campaign with this 'save something every week' message in 1950.
Children firing up for Bible fun
These children are having a lot more fun 'blasting off' to activities at an after school programme run by the Children's Special Service Mission in a northern Melbourne suburb. A representative of the Children's Special Service Mission arrived in Brisbane in 1884. It is linked to the Scripture Union – there is a small SU logo under Saturn's rings. The CSSM appears  to have wound down in the 1970s.
Border control
How  to date this? Our Brisbane correspondent Glen U advises:the car is a Ford Customline which a Victorian Customline club site shows as a 1955 model. Regardless of the year ( they didn't change shape  much) and were manufactured from 1949 to 1959 so comfortably say mid fifties.
Nervous prostration and other health messages
As Andrew H's main area of interest is health, he naturally has some fine blotters about health products and services.
Brinsmead's pharmacies were dotted around Melbourne but the Ripponlea address only seems to be active in the late 1910s and early 1920s. So this small blotter may be one of Andrew's oldest.
This blotter is clearly a message and its audience is 'the Medical Profession'. It is described as a calendar blotter but there is nothing on the verso and no sign of a perforated section having been removed. It is an 'ideal tonic in nervous prostration and overstrain' and the colouring of the blotter is calming.