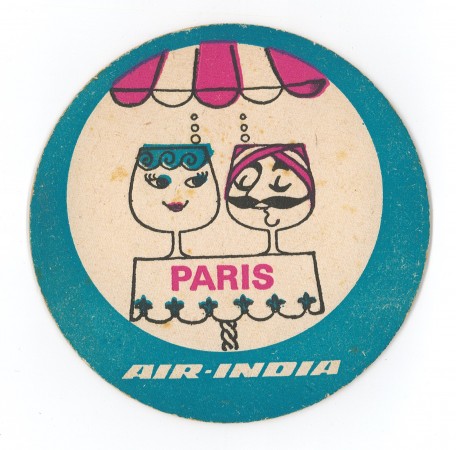 WE ALL HAVE OUR AREAS OF INTEREST IN COLLECTING. And we can all be led astray. How divine is this selection of Air-India coasters? I bought these not at the fair but at a swap meet held by the ESA . We will prompt you to attend the next one, early next year.
The purchase is timely as a piece reminiscing about the creation of the Little Maharaja has just been published:
He's been there, done that. Over the last 72 years, the Maharaja has travelled to far corners of the Earth. From Canada to Brazil to Fiji. He has sold "naughty pictures" on the streets of Paris, ogled at women at Bondi, and nearly became bushmeat in Nairobi. If the world's most famous airline mascot were to thank a few people for all his travels (perhaps some Suntory from Duty Free?), Nargis Wadia would feature high on the list.

In 1955, when Wadia joined Air India's in-house art studio as a designer, the Maharaja was used only for corporate branding. You would see him at Air India's booking offices, on stationery, coasters and other material, but not much elsewhere. Then came the brief to make him the face of the airline. "We're starting a new flight. Go design something," was the cue. What followed was a series of posters that would go on to define Air India, and position it as an international airline of class.

Over the next three years, Wadia and team went on to create cutting-edge artwork that won her international acclaim, but more importantly, gave Air India the lift it was looking for in the international market. Among her more famous works were the posters for Switzerland, Germany and Air India's reclining seats—or slumberettes. But it was the one for Paris that would make heads turn—or roll, quite literally.
For the rest of the story go to the article.