JOIN A SERIES OF SEMINARS ABOUT COLLECTING run by Museums Victoria
As the numbers in Victoria reduce, we turn our thoughts to the next three-part lecture series, 'Collecting the Curve', which starts on September 16. I do hope you can join us as our experts bring you the work-in-progress documenting the pandemic in Victoria for the state heritage collection. What are they collecting and why? How are they collecting? What are the complications of documenting this constantly changing and evolving situation?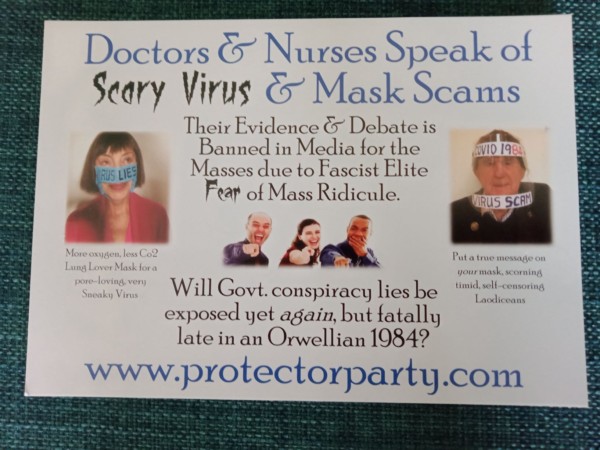 The first lecture, Flattening the Curve reveals how the museum is documenting the cutting edge of science, medicine, and governance in keeping Victoria safe. From the tireless work of research and health professionals in diagnosis and treatment to the application and communication of policies, such as mandatory masks and stage 4 curfew our experts will reveal the objects that will tell the story for future generations. Register via link below.
https://museumsvictoria.com.au/melbournemuseum/whats-on/collecting-the-curve-the-cutting-edge-of-science/
Collecting the Curve: The cutting edge of science: Melbourne Museum

Collecting the Curve is a contemporary collecting project which documents the experience of the COVID-19 Pandemic on the Victorian community. In this three-part lecture series, meet the museum experts at the frontline of the project as they reveal the objects, images and stories collected.
Looking forward to seeing you at a lecture soon,
Bec
Rebecca Carland
Senior Curator
History of Collections
Society and Technology
Museums Victoria
GPO Box 666 Melbourne VIC 3001 Australia
@curatorcurious
Museums Victoria acknowledges the Woi Wurrung (Wurundjeri) and Boonwurrung peoples of the eastern Kulin Nations where we work, and First Peoples language groups and communities across Victoria and Australia.

Our organisation, in partnership with the First Peoples of Victoria, is working to place First Peoples living cultures and histories at the core of our practice.
This e-mail is solely for the named addressee and may be confidential. You should only read, disclose, transmit, copy, distribute, act in reliance on or commercialise the contents if you are authorised to do so. If you are not the intended recipient of this e-mail, please notify postmaster@museum.vic.gov.au by email immediately, or notify the sender and then destroy any copy of this message. Views expressed in this email are those of the individual sender, except where specifically stated to be those of an officer of Museums Victoria. Museums Victoria does not represent, warrant or guarantee that the integrity of this communication has been maintained nor that it is free from errors, virus or interference.