Longstanding ESA Mick Stone of Camberwell Books and Collectables told Wendi B about his love of books, comics and mechanical toys and a productive piece of sleuthing.
Mick's expertise has been recognised when he was asked to be picture editor and compiler of a checklist for all known Australian comic titles, 1900-1960 for Bonzer: Australian comics 1900s-1990s (Redhill South, Vic.: Elgua Media, 1998). In 2007 he was interviewed for Word Balloons: the magazine of comic arts.
Mick has been interested in books and old comics since childhood; a passion that endured national service and through his later working life as a civil engineer at the Port of Melbourne Authority.
In the early 1970s Mick and his future wife Irene, travelled extensively through Africa and England incidentally adding to his growing comic collection before returning to Australia in 1974, where he continued sourcing mainly Australian comics. He relates that upon return there was a part-time venture with partners Nick Dawes and Bill Mathews at the Weekend Bookshop; then in 1990 he and Irene became owner-proprietors of Camberwell Books and Collectables, in Camberwell Road – just over from Rivoli Cinemas. This well-known local business closed its doors in 2015, however Mick continues to operate online from home, by appointment.
Early days with ESA
Ian Atkinson was a collector dealer who introduced Mick to ESA at one of the earlier meetings "when (founding president) Honor Godfrey was still there" – around the early 1990s. He always enjoyed attending symposiums and social events, describing himself as someone who had a 'low threshold of interest'… in that he was pretty much interested in anything, from a perspective of general curiosity. This meant he enjoyed seeing many collections without feeling the need to collect himself, in particular sporting memorabilia and any kind of old advertising material. Yet Mick always had a passion for comics and chiefly collected these along with mechanical toys.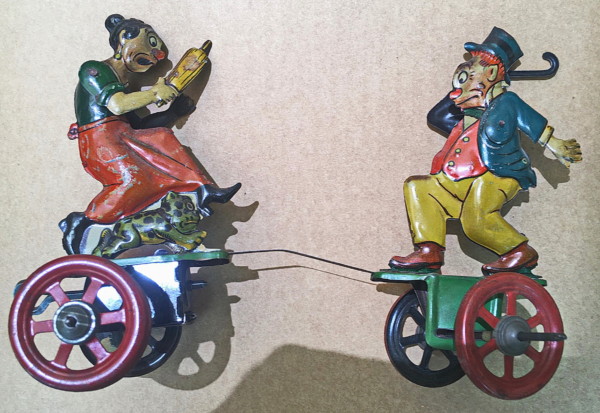 He liked toys derived from comic characters, one favourite being a 1920s tin toy duo called Maggy and Jiggs, from Bringing up Father. This wind-up toy was bought on a football trip to Adelaide in 1974, for $24. He reckons his footy mates thought him mad for this purchase!
 Real life sleuthing: In search of the trove
One of his best find-adventures began on his return from the overseas trip, on discovering some of his comic collecting colleagues had found a prime collection somewhere. Despite their friendships there was reluctance to reveal the source, until a wife let slip about an ad in The Age. Mick went to the State Library and checked all The Saturday Age sales columns from his 18 months away until he found the ad, "Old comics for sale". The contact number was a travelling salesman who was likewise reluctant to reveal his source, except to say the stash came from a Victorian country town.
Five or so years later Mick came across an old comic collection in Williamstown and says he just knew this lot were from the 'mother lode'. He happened to overhear the proprietor telling someone else about an amazing old shop in Talbot; so, Mick rang the Talbot post-office describing the place he was trying to find, and they said "Oh, that'll be the Weilandt's store. The store had been run since the 1920s as a cash grocer and by the 1930s as a newsagent and apparently any left-over stock had never been returned to the suppliers.
Mick arranged a visit with the recently deceased owner's son, saying it was like walking into a raided pharaohs' tomb: heaps of valuable 'booty' still there, but evidently many treasures (comics) had already been 'plundered'. However, he was able to purchase several old toys. Later he compared notes with one of his collecting friends, Colin Williams, who had bought many of the comics from the travelling salesman (while Mick was away), and his bit of detective work had been inspired by realising that the comics all had surnames written on them. Deducing they had likely derived from unclaimed subscriptions, Colin put the more unusual surnames together and checked the electoral roll, to see that all those names came from Talbot. Over time Colin had purchased several lots of comics from the old gent, who only ever charged the cover price for each item.
An elusive treasure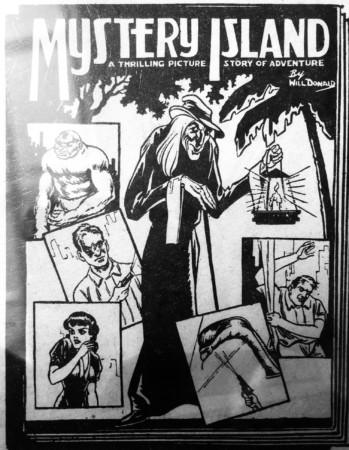 The one comic Mick is yet to find despite years of searching, is a rare copy of Mystery Island  which was published by NSW Bookstores in 1941. (Apologies for the poor quality cover image.) The artist was Will Donald and Mick reckons this stand-alone comic probably doesn't even exist anywhere, anymore; and if ever found would be extremely valuable.
Mick summed up by saying that his comics have always been pure joy to read and that amassing a collection wasn't the most important thing. While he has sold a lot of his toys – "they were gathering dust" – he acknowledges that his family were interested in the comics to read but not collect, and that newer generations seem indifferent to tangible 'things', having interests in experiences and things providing sensations, or adventure.
Initially for Mick it was about the hunt, the thrill in searching and finding newer things (to collect) and sourcing rarer items. Yet he says it's good to enjoy these then sell them, to pass them on. Ultimately Mick says, it's important to know when it's finally time to let a collection go.
Member interview by Wendi B. with Mick Stone, of Camberwell Books and Collectables first published in Ephemera News December 2021.
Reference: Word Balloons No. 6 (2007), Philip Bentley
PS  more about Weilandt's store
Mystery Island
From Australian Worker (Sydney) 25 June 1941
There is so much syndicated matter in the way of illustrated strips and stories being worked off on the public that it will come as a pleasant surprise to many of our readers to know that we have an Australian artist capable of producing work immeasurably superior to the imported rubbish so extensively published by many of our newspapers. Our young readers are well acquainted with the work of Mr. Will Donald, whose humorous "Blue Gum" sketches appear on this page. In a book which he has published — "Mystery Island" — Mr. Donald strikes out in a new direction. He has produced a picture story of island adventures, in which plenty of thrills are provided for the reader. The plot is worked out in a way which maintains the reader's interest throughout. There are also a number of pages of humorous sketches, including some "Blue Gum" selections, and altogether the reader gets full value for the modest price — sixpence — at which "Mystery Island" is sold.
and it sold out according to a later article in Australian Worker 25 June 1941:
"Captain Katseye." Send for Free Illustrated Catalogue.
Picture stories have become very popu-lar, especially those of mystery and ad-venture. Some of these appear regularly in the newspapers, but are from the pens of overseas writers and artists. How-ever, an Australian, Mr. Will Donald, has proved an adept in the conception of pictorial stories, and his work has made a successful appeal to those who like this form of entertainment. Just before Christ-mas last year his "Mystery Island" so caught on that the first edition quickly sold out. Mr. Donald, whose "Bluegum" series on this page has been so popular with our young readers, is again before the public with "Captain Katseye," in which mystery and invention are blended in a way that keeps the interest of the reader alive right through. The wind-up of the story is something out of the ordinary run, but it is one with a good laugh in it. Mr. Donald's thriller can be bought for a modest sixpence, so it should go like hot cakes with young and old alike.