UNTIL 30 MAY 2021, IF YOU ARE IN SYDNEY YOU CAN VISIT A MANY DIMENSIONAL EXHIBITION ABOUT
when gay and lesbian life went public in the 1970s. Speaking up and standing out, gay men and women took to the streets proudly demanding to be seen, heard and accepted.  The exhibition draws from stories and records in the State Library of New South Wales' collection to explore how the gay and lesbian rights movement emerged in NSW.
Here is a snippet to give you a reason to visit as an ephemera collector – about badges:
The rise of protest movements in the 1960s and 70s gave the button badge a new lease of life. Student unions produced and distributed badges to help people display their opinions, concerns and loyalties on a range of issues. Anti-war badges were sold in their tens of thousands to fund the Vietnam Moratorium Campaign, while gay liberation supporters used them to proudly proclaim their sexual identity or point of view. These badges carry messages of self-affirmation that reflect key moments in the social and political life of the movement and the times. For some lesbians and gay men, pinning a badge on their chest was a revolutionary act, making a very public announcement of their sexual orientation in a hostile world.
For those of us not in Sydney, there is an excellent online summary of the exhibition showing many posters, badges, t-shirts and powerful stories – see here.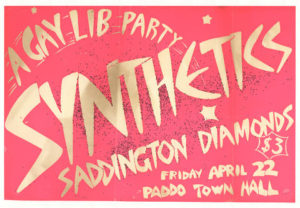 Where: Exhibition Galleries State Library of New South Wales, 1 Shakespeare Place. Sydney, NSW
When: 10am-5pm all week, until Sunday 30 May 2021
Free.