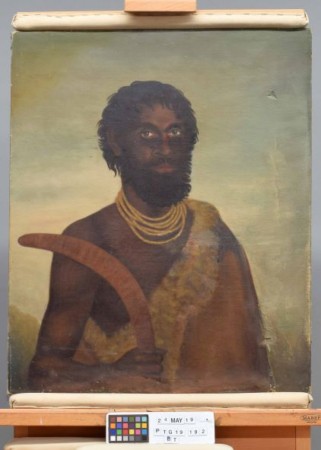 LEARN ALL ONE CAN FROM PORTRAIT OF BOONWURRUNG MAN. Come to a lunchtime free lecture on 4 December 2019 at the Royal Historical Society of Victoria.
Catherine Gill, as part of her recently completed Masters in Cultural Materials Conservation, studied the portrait of Jack Wetherly, Boonwurrung man, in the Royal Historical Society of Victoria collection. The portrait was painted in 1840 by Thomas Napier. 
Thomas Napier migrated to Hobart where 'he saw the surviving members of the Big River Tribe being brought into Hobart Town by George Augustus Robinson en route to Flinders Island'. By permission of the authorities he was allowed to paint several portraits of members of the Big River Tribe, including one of the chiefs called Manalangana which is now housed at the Melbourne Savage Club.  Napier migrated to Melbourne soon afterwards and was amongst the first people to purchase land at the first land sale. He then established a cattle station near Dandenong and it is likely he met the , Jack Wetherly.  Information about Wetherly was found in the journals of William Thomas who was appointed as one of four assistant protectors under the Port Phillip Protectorate (1839-1849).  
Gill's foci were:
the creation of a conservation plan to treat the painting. This required a scientific analysis of the materials used by the artist;

and

gathering knowledge from the portrait  about Jack Wetherly and his history. This is to inform viewers of the portrait.  
The talk will focus on the two areas of the research findings as well as the process undertaken to conserve the portrait.
When: Wednesday 4 December 2019, 12 noon for 12:30 lecture, finishes by 1:30pm.
Where: Royal Historical Society of Victoria, 239 A'Beckett Street, Melbourne.
RSVP: https://www.historyvictoria.org.au/event/jack-wetherly-under-the-microscope/.
Attendees are more than welcome to eat their lunch whilst listening to Catherine and we'll have tea / coffee available from 12 noon onwards. 
 Aboriginal and Torres Strait Islander people are warned that the event and event booking site will exhibit images of deceased persons.