WEIGHTS USED IN A RECIPE CAN HELP PIN DOWN THE DATE WHEN THE BOOKLET OR RECIPE SHEET WAS PUBLISHED:
The conversion from imperial weights & measures to metric weights & measures was phased in over 18 years (1970 to 1988). From 1988 metric units became the sole legal units of measurement in Australia. Weights & measures conversion started in 1974 and was more or less completed by 1982. (Read more at this link.)
This delightful cover was for a special edition in the SEC (State Electricity Commission of Victoria) Tested Recipes Series. The team in their testing kitchen included at least 13 women who were each invited to produce a dinner party menu. The table of contents reproduced here shows the menus.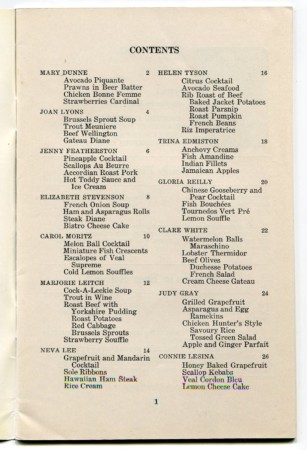 This is a typical double page: photograph of the adviser; meal plan; recipes; no photographs of the dishes.
When was this published? An extract from the back cover shows '74 502 1500′. It is tempting to interpret this as published in 1974. But given that weights and measures conversion to metrics started in 1974. Surely the SEC, a government entity, would have been a model publisher. Any ideas? This is booklet 17. 
The odd earlier booklet in the series can be found online. This booklet from 1963 is not numbered so may predate the numbered series. This is from The Greensborough Historical Society Collection, find the reference here.
No. 2 is part of the collection of the Greensborough Historical Society, find the reference here.