CAN FATHER CHRISTMAS FIND HIS WAY HERE? THERE HAVE BEEN A COUPLE OF BARRIERS. The first was the tendency for locals to buy the northern hemisphere image. Here was a great response from Greg Bakes of Graphic Bakehouse. Like it? Go to the Graphic Bakehouse website.
The next problem has been getting him close to Australia – looks like he ran into a contemporary problem. John Ditchburn of Inkcinct captured the problem in a card. Like it? Go to the Inkcinct website.
OK he made it in 1999 and it was recorded by Australia Post. Unfortunately we can't show that image, but he is in a hammock overlooking the beach with some of the island's crabs crawling over his boots. Here is one published in the same year that might show an illegal entrant. 
A scene of Australian birds and animals, humanised, and seeing Father Christmas making a stop while delivering presents in a ute purportedly in the Outback.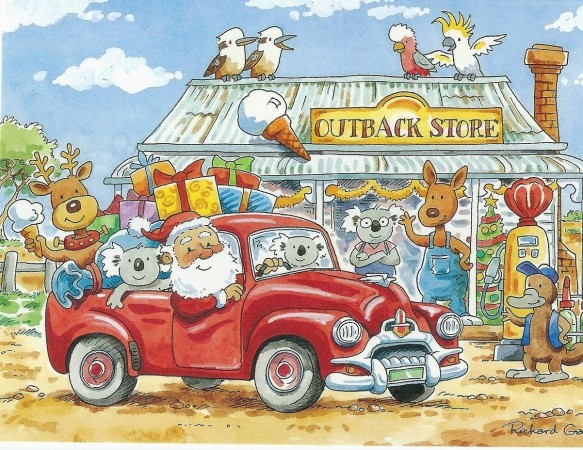 This looks like a better go at showing the Outback.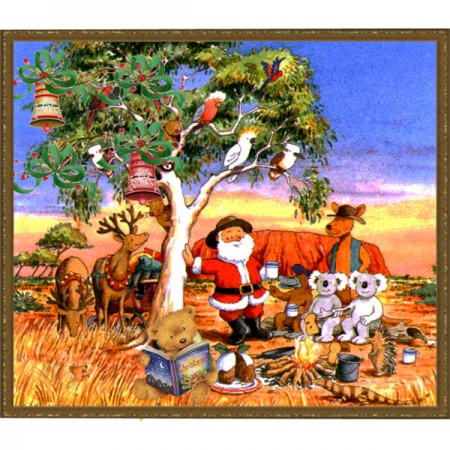 Father Christmas also visits the cities, where he posed for this Victoria Police Christmas card.
The next step from Father Christmas visiting is Father Christmas acclimatising classically as a Surfing Santa. 
 There can be too much acclimatising and maybe Father Christmas has gone too far here.
LoungeKat is the work of Kate McInnes; she has a Loungekat website but it may be undergoing some renovation.
We have come a full circle with an Australian card designed this time by Reg Mombassa, looking at Father Christmas in a wintry scene brought about by climate change. Website? of course Website for Reg.