ARE YOU SOMEONE WITH AN EAGLE EYE FOR DETAIL?DO YOU WANT YOUR COLLECTION TO BE ORGANISED BY, SOME PRINCIPLE?DO YOU NEED TO TAKE CERTAIN ROUTES TO AVOID AWFUL SIGNS?
Three stars ***good not great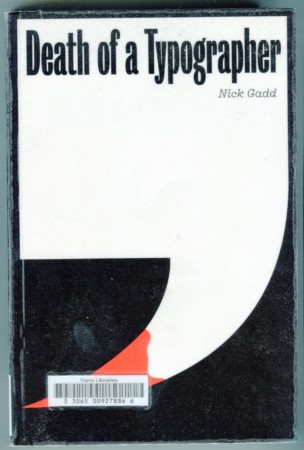 Then this local crime novel may be for you. The main characters are a graphic designer, Martin, and journalist, Lucy drawn together by the death of a printer. Martin Kern (means to adjust the spacing between (characters) in a piece of text to be printed) works occasionally as an expert witness in trials.
The trial had involved an architect accused of murdering a woman found with a revolver in her hand and a suicide note on her desk. Called in to provide an opinion, Martin had spotted that the note was typed in Lucida Grande, a font only found on Mac computers, whereas the victim used a PC…
The investigation is complicated as the body is lying in a position that mimics a new font possibly designed by the famed Dutch typographer Floogenstraten…The story, in 24 chapters, each with a different font title page, might increase your obssessive tendencies and your understanding of printing, design studios, font and more. In the course of the novel sorry to say we read about posters and flyers from the golden age of Floogenstraten being faked for uninformed collectors to buy.
Death of a typographer by Nick Gadd (North Melbourne: Arcadia, 2019) borrowed from local library.