FROM A WONDERFUL MEMBER COLLECTION, WE LOOK AT SOME 1930s LETTERHEAD.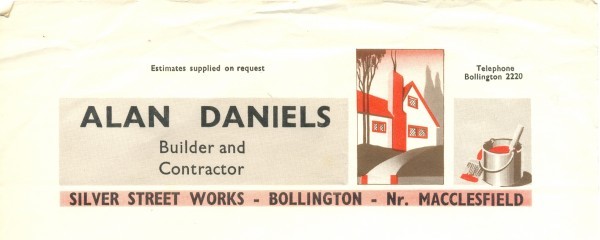 A little bit about letterhead
According to Maurice Rickards' Encyclopedia of Ephemera, letterhead evolved from the trade card and bill head (invoice).
The invoice was a fundamental business record but business letters were rare until the mid 19th century. Two changes led to the business letter: commercial growth and the development of postal services. The term letterhead was first used in 1890 in the United States of America.
By the last decade of the 19th century saw the elements of the letterhead established: address and telephone number. Like all ephemera, design was effected by technological changes and the taste of the day. In the 19th century letterhead was horizontal because of the technical constraints of movable type. Another formative influence was hand-drawn copper engraving and lithography.
The early decades of the 20th century saw the influence of the typewriter on letterhead design; there was a reduction in the 'weight and impact of the letterhead'.
Some local letterhead
Wikipedia provides some history of the early years of this travel business started by Reg Ansett:
On returning to Victoria in December 1931, with his savings he purchased a second-hand Studebaker and began a service car operation between Ballarat and Maryborough  carrying passengers and small items of freight. When this proved uneconomic, he switched the Ansett Motors operation to a Ballarat to Hamilton service. The wealthy graziers of Victoria's western district proved to be a much better market. Within a few years he had a small fleet of service cars operating to towns in western Victoria.

Ansett Airways 1936-194

By 1935, Ansett Motors and other operators was proving a thorn in the side of Victorian Railawys, taking both passenger and freight revenue. The Victorian Transport Minister and Attorney General Robert Menzies pushed a bill through the state parliament prohibiting service cars from competing with Victorian Railways, slashing Ansett Motors' revenue overnight. Looking around for an alternative, Ansett decided to try an air service. What made this attractive was that air services were controlled by the Commonwealth government, so the state could not intervene.

On 16 February 1936 Ansett Airways Pty Limited inaugurated its first service, from Hamilton to Melbourne using a diminutive six-seater Fokker. The flights operated daily each way, Monday to Friday. The service was a modest success and the Fokker was joined by an Airspeed A.6 Envoy. To help boost his funds, he entered and won the Brisbane to Adelaide air race in 1936. On weekends he took the Universal on barnstorming tours of Victoria giving joyflights to paying customers.
Val Morgan still trades today albeit chiefly as a cinema advertiser. The letterhead illustration demonstrates the product.
Here is another business that trades today. Letterhead stock was often corrected by a stamp with new details.
From England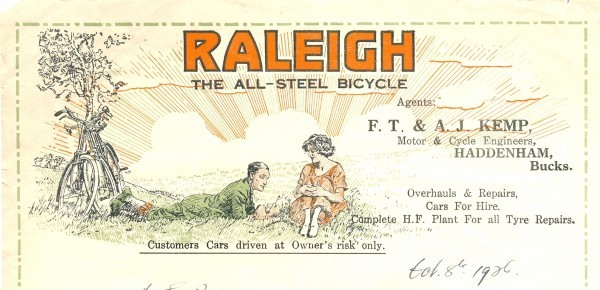 This English letterhead is a bit muddled. There is a lovely illustration of the bikes and their riders taking a break. The Agent's information seems to be stamped or printed on the letterhead. But this information seems to be more about cars including an odd note under the couple about cars being driven at the owner's risk. This seems to be a problem with letterhead that tries to be multipurpose.
We know there are a few connoisseurs of this printed material. We would happily showcase other examples.