All in the head – no need for knitting instructions
Initially knitters did not use pattern books. This was because: they could not read; only traditional patterns local to an area were used; and the knowledge about the necessary number of stitches, rows et cetera was passed down the generations.
1800 – first knitting book produced in Germany
The Germans published the first knitting book in 1800 – The Art of Knitting in all its Aspects. Germany was a leader in dyeing techniques; Berlin wool was famous for its range and depth of colours.
The code used in patterns – inc., sl, yrn – must have been in use in the 1800s as like instructions were used in one of the earliest British books to cover knitting – The Lady's Assistant by Jane Gaugain, published in 1840. Apparently Mrs Beaton included 'knitting recipes' in one of her guides to the domestic arts. But Mrs Beaton did not develop this part of her works on domestic arts.
Wool spinners produce pattern books to encourage sales of wool
The spinners, of knitting wool, thought that producing patterns would stimulate wool use. The first pattern books were produced by John Paton, Son and Company. In 1896, the Knitting and Crocheting Book  was published: it was 228 pages long and set out 100 designs. It was a success and in 1899 was followed by the Universal Knitting Book which ran to three editions. This combined with another spinner Baldwin's pattern book, to become Woolcraft, which was revised and published in at least 21 editions (this last being published in the 1980s).
Later editions of this pattern book are held in Australian libraries – here is an Australian publication, digitised by the State Library of Victoria.
As well as these substantial books about knitting, in the early 190os booklets – Helps to knitters – were produced. These were more like the modern pattern book.
Women's magazines include knitting instructions and produce pattern books
At about the same time, women's magazines began to publish knitting patterns.
We have a beautiful selection of pattern books published by magazines and newspapers. Once again, these come from the collection of Andrew H, inherited from his grandmothers.
 Stitchcraft, is an English magazine. This issue includes knitting and sewing patterns. These are introduced by two pages on fashions overseas, in Paris. It includes some cooking recipes but very much as a secondary element to the handcrafts. Stitchcraft is printed on glossy magazine paper. An archive of covers from the 1940s can be seen on 'The Vintage Knitter' website. Apparently these 1930s issues are rare in Britain.
It is an indication that the Australian market was provided with English craft magazines.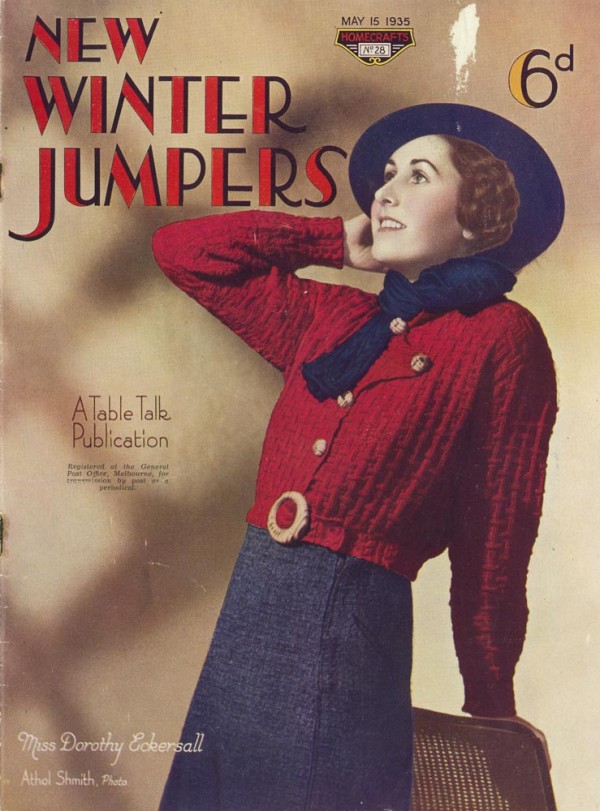 This cover is a quintessentially Melbourne product. Published as a part of a series, Homecraft, No. 28, by Table Talk. The cover and inside pages photographs of women wearing jumpers has some of the trademark Table Talk glamour; by this we mean professional photographs of young women about town – the 'it' girls of the time.
The rest of the pattern book is printed on cheaper quality paper.
Here the cover photograph of a girl about town – Dorothy Eckersall – was taken by the 'to be very famous' photographer Athol Shmith. Table Talk was established in 1885 by Maurice Brodsky as  a weekly miscellany of politics, finance, literature, arts and social notes, which was highly successful during the boom of the 1880s.  He had to give up Table Talk after being successfully sued by for defamation. Table Talk was taken over by the Melbourne Herald in about 1902 and changed to a glossy magazine documenting the upper classes of Melbourne; it ceased publication at the outbreak of World War II.
Incidentally Brodsky's life was amazing – read the Australian dictionary of biography entry for him.
 The Argus Knitting Book, stapled, 36 pages, with full colour cover and advertising insert only. Interesting  and less serious and so more fun than the  other pattern books. According to Trove this dates from circa 1940. We note that the knitter is pictured facing difficulties with the knitting – needs to tame the tangles and deal with prickly situations.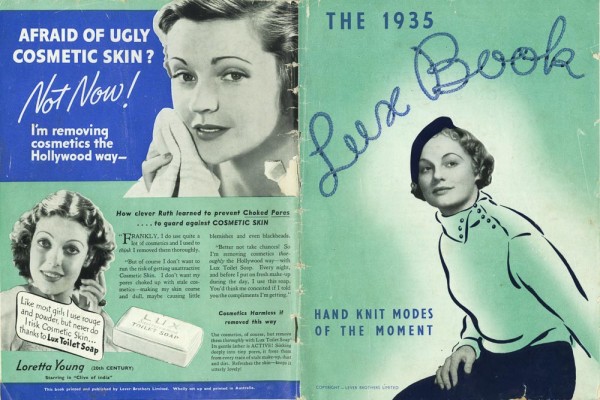 The 1935 Lux book: hand knits of the moment. 24.5 x 18.5 cm. Stapled, 48 pages. Two colour cover. Only patterns, cheaper quality paper. Endorsement from London correspondent, Lady Margaret. Put out by soap producers Lux.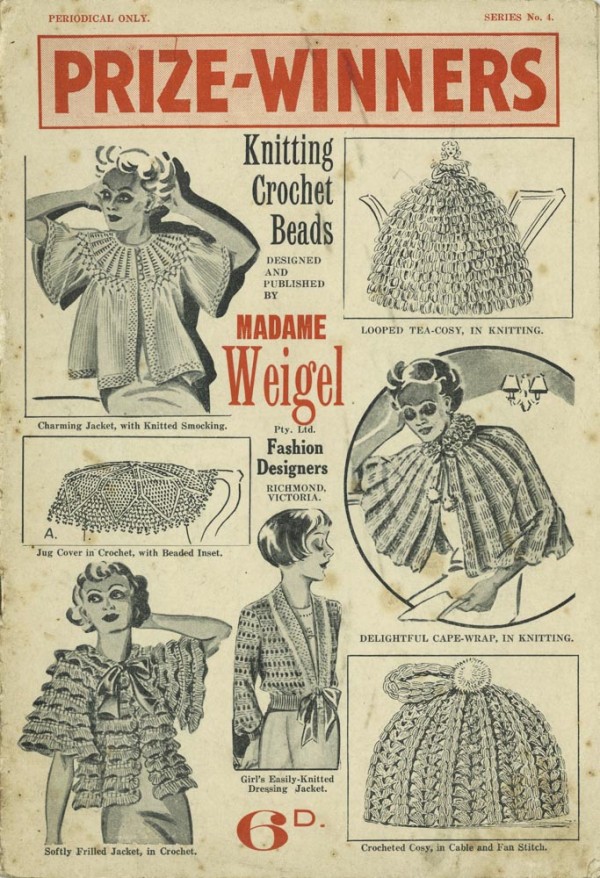 Prize-winners: knitting crochet beads designed and published by Madame Weigel Pty Ltd. Series no. 4. Stapled, 16 pages. 28 x 19 cm. Black and white with red on front cover only. Just sketches, no photographs. Just patterns. SLV says circa 1940s. see digital version.
Madame Weigel was an important figure in Melbourne's clothing industry; she came here as a fashion cutter. You can read more about her here.
References
Harvey, Michael 1985. Patons: a story of handknitting. Little Hills Press, St Peters, NSW.