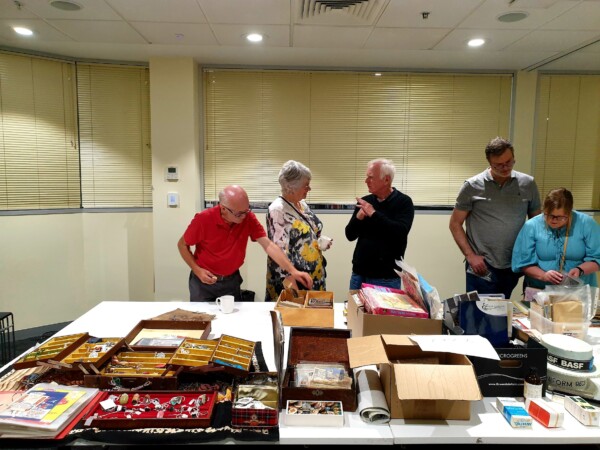 SIMON CLEGG REPORTS ON THE LAST SWAP MEET – THE NEXT ONE IS ON FRIDAY 19 AUGUST 2022.
WHERE; CAMBERWELL LIBRARY MEETING ROOMS
WHEN: 6-8PM
MEMBERS – FREE, FUTURE MEMBERS $5 EACH. 
On the evening of February, 18th, 2022, as Ephemera Society members gathered at Camberwell Library to unpack their wide variety of trinkets and wares, we were greeted by an evening in this fine old leafy suburb that was benign, cool and pleasant, the breath of a lightly sparkling summer breeze had pierced the overblown heat that had drenched Melbourne's suburbs over the previous days, putting all those who attended that night in a benign and friendly frame of mind. For myself, this writer was just glad to be able to get out of the house.
Around a dozen members were present including: Andrew Hillier, David Wood, John Dean, John Young, Lyndel Walker, Merren & Sandy Hamilton and new members Mike & Jo Riley. Unfortunately our dear leader Mandy Bede was unable to attend whilst new member, writer and journalist Mark Baker also conveyed sincere apologies, being unable to take a table due to an eye operation.
Debra Parry and Ed Jewell had worked quickly and efficiently in advance of the main group arriving, kindly setting up 12 tables and laying out the cheese, biscuits and other nibbles associated with a light supper, prepared kindly by Ed's spouse, Judy.
The tables were well filled with a wide variety of papers, documents, board games, coins, medals, badges, jewellery and other antique personal possessions and items of ephemera. It was lovely, friendly relaxed evening, really, it could have been in the front room of any old house in Kew, except this was a social gathering where people traded with other with cash and goods changing hands. 
The 'free table' operated by Ed turned up a pleasant surprise; a vintage Disney board game, although offered free without charge, pleased one member present that he 'just had to pay something' for it and a $20.00 bill went straight to the society biscuit tin. Other items traded were some schoolbooks; whilst Debra picked up a tin that appealed to her greatly, Andrew Hillier bought some rare badges from the writer, who exchanged details with Merryn Hamilton for future reference about the war-time diaries of a Tobruk 'Rat' – Merryn's uncle. Merryn also applied her skills to untangling 22 silver rings for me that had all the price tags tangled up. Among the other members, vintage school books, old postcards and travel items were bartered, traded, exchanged and sold.
This was another very successful evening, a friendly get together of like-minded souls exchanging news, views and pleasant idle chit-chat. Many thanks to the organisers Edwin and Debra and to those who attended, especially our long time trader with recently uncovered items of interest, John Dean and remember, don't schedule an eye operation the day before a society get-together… 
We arrived on time, and we left on time.

 The next Swap Meet is on Friday August 19 2022.
This was published in Ephemera News March 2022 without photographs.
Welcome to the new sobriety. It's been a hard day's night. Make a saint swear. Re-use old parachutes for bridesmaid dresses. Solidarność.