TIDYING UP, LOOKING FOR SOMETHING ELSE – I CAME ACROSS THE VERSO OF A POSTCARD – I WAS FOCUSED ON THE KOOKABURRA TALKING WHEN I WAS SCANNING. This happens to be number 1 in a series of 36.
The Museums Victoria Collection has number 8. the front is a photograph of the southern facade of the Exhibition Buildings Melbourne and they date it to about 1910. (Theirs was half price!) I can't see any reference to The Speciality Press as early as 1910. Can anyone assist?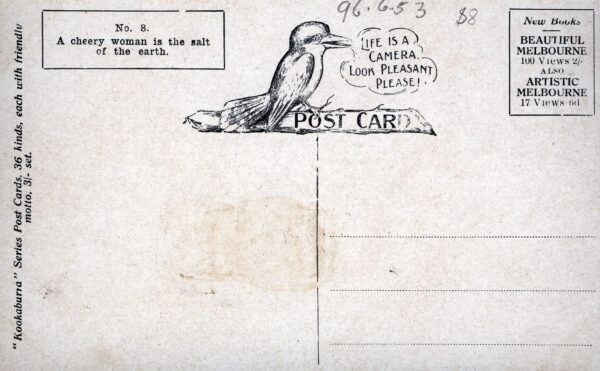 We get some more clues from other advertising information on the card's back. The first book advertised appears to be  from The Specialty Press Pty Ltd.
Beautiful Melbourne: containing 100 views of principal streets, buildings and beauty spots in and around Melbourne has been identified as number 3 in The Beautiful Australia series and the publication date attributed as 1913. It was 50 pages, mainly illustrations, with maps ; and dimensions: 18 x 25 cm.
" … with map of the city and guide for visitors." —

Text on covers. Map of Victorian Railways Melbourne suburban lines, with list of Melbourne suburbs and principal country towns and villages within 30 miles of the city on inside front cover; plan of Melbourne streets and key to principal buildings on rear cover.
The second item referred to Artistic Melbourne is in the collection of the State Library of Victoria and is a set of 17 postcard views in a booklet. The SLV dates them to 1911-1918 and The Specialty Press is of course the publisher. We reproduce five of the views here.  You can view the full set online at the State Library of Victoria.
1913 seems to be confirmed as the date of publication (from a column in The Critic (Adelaide) 17 December 1913):
Time was when Melbourne was known popularly as "Marvellous Melbourne." This was some twenty or thirty years ago, and at that time, owing to its open drainage, it was also known as "Smellbourne." Now, it is to be known in the future as "Beautiful Melbourne," and in support of this claim an enterprising and artistically-minded local printing firm, the "Specialty Press," has printed in very fine style a well-selected and up-to-date collection of photographs of the principal streets, public buildings and gardens, statuary, and all points of picturesque interest which go to make up the present-day city of Melbourne, certainly a far more "marvellous" city than it was twenty, or even ten, years ago, and in some, respects entitled to the more pleasing appellation of "beautiful." The price of this book is 2/, and a smaller selection, in envelope size, entitled "Artistic Melbourne Views" (Kookaburra Series) is published by the same firm for 6d., put up in an envelope, with address slip attached, all ready for posting.