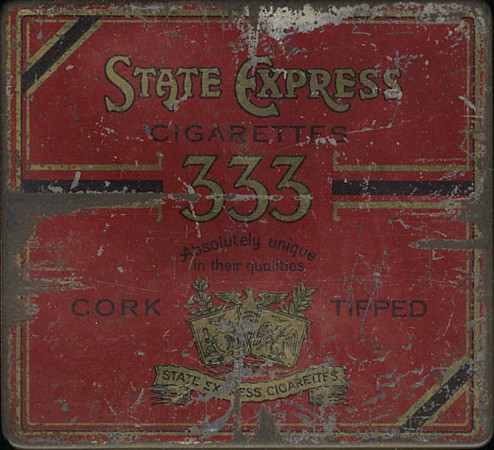 NEW INQUIRY FROM THE SMOKY PAST, specifically about the history of a cigarette tin containing war service medals. 
I have a State Express 333 Cork Tipped Virginia 100 cigarette tin S-25-B English version which now contains my father's and his father's medals and some badges etc. I have now discovered that the tin was made in factory three in New South Wales- 3/4 is printed on the tin.

Do you know when the tin might have been made? I am wondering if my father may have purchased it during WW2 or his father during WW1.

Where was factory 3?

How much would 100 of these cigarettes have cost?
By the by, future correspondents please note, it is very important to provide a scan of the item you are asking about. We hope to demonstrate this by showing another example of the tin.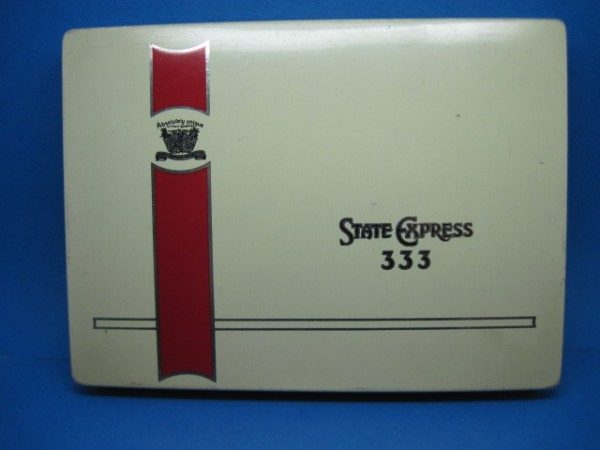 We recommended that our inquirer search Trove newspapers – which we did searching
phrase 'State Express'; and

must include the words '333' and 'cigarettes'.
This found 2,500 articles, advertising, lists in Australian newspapers. The latest advertising entry we found was in August 1952. The earliest entry was June 1915.
We improved the search by adding in '100' and 'tin' and found these lines in an advertisement published on 13 October 1915 in The Sydney Morning Herald.
FOR OUR SOLDIER BOYS. DAINTY HAMPERS.

PACKED WITH CHOICE XMAS FARE. TOBACCO, CIGARS, AND CIGARETTES

AND OTHER COMFORTS WHICH OUR BOYS AT THE

FRONT WILL APPRECIATE……………………………………………..

TOBACCO, CIGARS, AND CIGARETTES. PIPES…..

Capstan, 3d per packet, 1/6 per tin of 50,

State Express, No. 333, 6d pkt of 10, 2/8 box of 50, 5/ box of 100.
The use of the word tin or box is deliberate, so this advertising doesn't seem to relate to the 333 tin our family historian has. We continued the search:
In March 1917, tins of 50 are advertised;

In 1919, advertising still has 100 333s in boxes not tins;

in 1925 50s are in boxes or tins and 100 in tins only. There is no illustration of the tin;
In newspaper advertising in December 1933 and December 1939, State Express is advertised in bakelite 50s and 100s. The 1933 advertisement is illustrated and you can see it by following this link. In  January 1941, State Express was being promoted in airtight tins of 50 and the illustration in the ad shows a cylindrical tin; you can see this by following the link.
So, no real answers for our inquirer. The advice is that a very diligent search through Trove might assist with dating. But in the meantime is there a cigarette tin or tin collector out there who can throw more light on this question? Please comment in the comments section below if you have some ideas, thanks.