MAN'S BEST FRIEND, & WOMAN'S TOO IS THE DOG. We often feature indigenous fauna but there is a place to celebrate ephemera recording the well-loved canines. We draw on the collections of several members, some of whom don't have dogs.
Card advertising product prepared by the pharmacist in Church Street, Brighton. Circa 1896. 10 x 10 cm. Collection of ESA member AH. Photographed/scanned by Mimmo Cozzolino.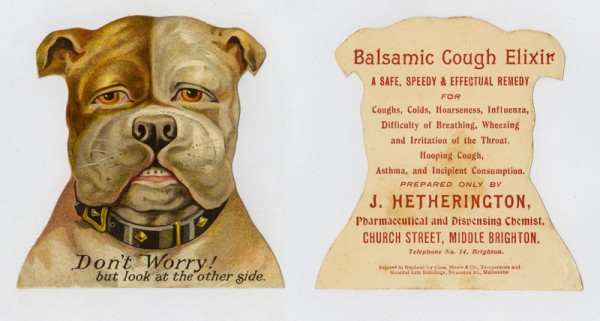 Charity plastic ribbon for the RSPCA's 'The last dog from Dunkirk'. Collection of ESA member NH.
This was a one off badge when few fundraisers were held for animal charities. The News (Adelaide), Friday 20 September 1940, page 9 reported that:
 "Digger," the bulldog mascot of the 4th Garrison Battalion at Keswick, is helping today with the sale of badges for the Royal Society for the Prevention of Cruelty to Animals. He is being escorted through town by two diggers, and is wearing a special white coat. There are about 80 badge sellers, and 8,000 badges, with a picture of the last dog evacuated from Dunkirk, have been issued. Because of the war, Animal Week will not be held this year, and the badge sale will be the only fundraising effort for many months. The secretary (Miss Robin) reported today that the badges were selling very well. 
Full page advertisement from an Australian animal lovers' magazine, from the collection of ESA member MS.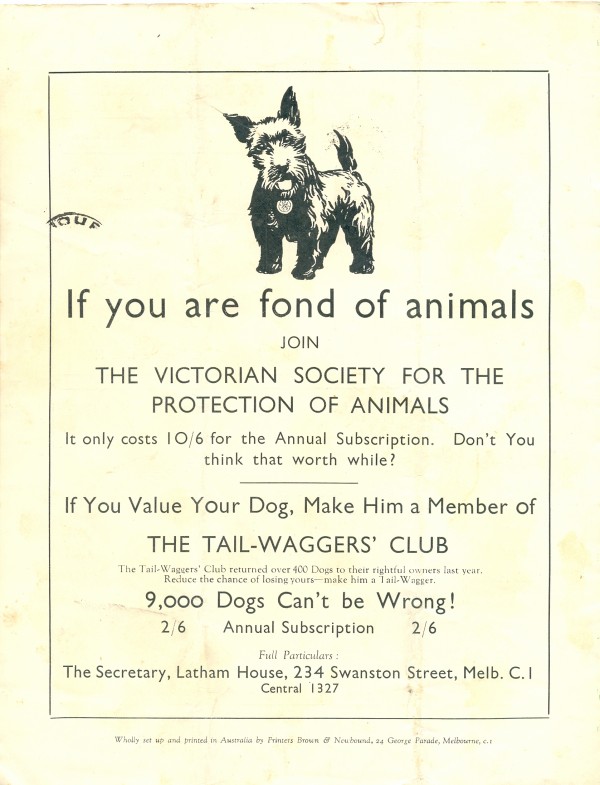 THE TAIL-WAGGERS' CLUB
The first dog to join the Tail-Waggers' Club when it was first formed In Australia, in September, 1931, has just died. No. 1 tail-wagger was an Irish terrier called 'Terry,' and belonged to Mrs. Sayer, of Toorak. Since he Joined, the membership has grown to over 20,000, and the movement has spread throughout Australia. All proceeds are devoted to animal charities. The Tail-Waggers' Club was founded in England in 1932, and is now established in over twenty different countries in the world. Cootamundra herald  Friday 2 October 1936, page 2.
The Alsation Defence League & Club of Victoria, from the collection of ESA member BW.
It seems the club was well established in Melbourne by 1936 as this report from Australasian (Melbourne), Saturday 25 July 1936, page 69 shows:
About 50 Alsatians of good average quality throughout faced the judge, Mr. G. McEwin Duncan, at the annual show of the Alsatian Defence League and Club of Victoria, held on July 18 at the R.A.S. showgrounds. It was a pity that there were not more spectators of the variety that have so much to say against these dogs, to witness the even temperament and stately demeanour of well-bred, properly trained specimens. In a class of eight in the Australasian bred dog class W. Duff's Avongar of Strathshaw won first and challenge certificate, the runner-up being Miss R. Penny's Ch. Emil of Trenton….
Best wishes to Dad, Fitwear socks' gift envelope, circa 1950s, 15 x 23 cm. Collection of ESA member AH.

Dad may have been enjoying these socks in September for father's day or for a birthday. The key indicia of contentment are all accounted for in this illustration – dressing gown, slippers, pipe, paper and the small red setter.
Australia Post postcard about changing address when moving house,c. 2010. Collection of ESA member AB.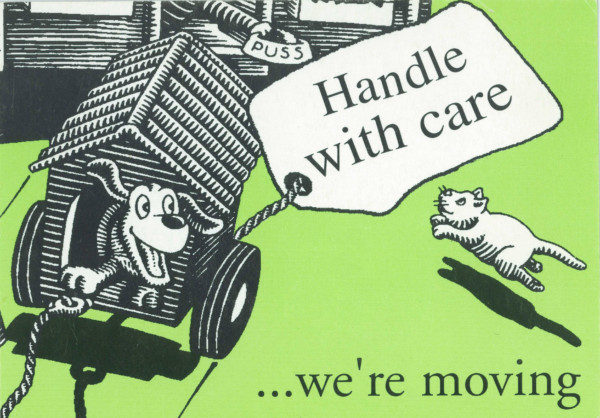 Just a decade ago, Australia Post was producing these postcards to remind people to redirect their mail – unlikely to be in production now.