SWEET TIMES 2020 – have we been here before?
You can see an article about the confectionery in Australia in the soon to be released issue of The Ephemera Journal of Australia. OK there may be a further delay as our printer probably can't operate until mid September. You will receive a copy if you join the Society $40/$25 a year or you can buy a single issue for $20 including postage.
ESA member Will Muddyman has created a history centre of chocolate and confectionery packaging, as well as point of sale and other advertising. Mimmo Cozzolino photographed some items that caught his eye.
My interest in collecting dates from when I suddenly developed a love of traditional jazz music at the age of 17. I frequented trash and treasures, fetes, fairs, jumble sales, charity, and second-hand shops searching for 78rpm, 45rpm and LP records. Garage sales became a source of material. This hobby was very time consuming, but also productive, as I would buy all sorts of items on Saturday and sell them at trash and treasure markets on Sunday.
My record collection expanded. And we ended up with a house full of collectables!
However, it wasn't until I saw the light' and decided to opt out of corporate drudgery (working for others, playing the politics) that an interest in collecting Australian chocolate and confectionery ephemera and history was fostered.
Purchasing a real chocolate manufacturer started the obsession. Meeting industry stalwarts led me to hearing names that were only childhood memories. Being a member of the Confectionery Manufacturers' Association helped too. I was meeting people who worked in a very vibrant and flourishing community. Some could remember names from 60 to 70 years ago or told stories their ancestors had passed on. The collecting bug started again!
At first, a few elderly citizens offered me some MacRobertson's tins (common ones like 'Clematis'). Some of the packaging was captivating! My interest grew.
I started haunting the second-hand shops, collectables' shops and centres around Melbourne, and in the country at weekends. I even made an interstate trip. Then I discovered eBay! Nearly seven years ago eBay was a treasure of tins, boxes, advertising material, and more. My collection of Australian ephemera had started in earnest. There were constant knocks on our front door as parcels of all shapes and sizes arrived. Soon I started to gather new friends with similar interests, and 'scouts'.
Collecting 'anything' Australian is however not easy. It can come at a 'cost' which includes more research. What are the origins of this business? Who were the founders? Where did they conduct business, and for how long? What were they famous for? What happened to them?
Mastercraft
This company has its roots dating back to the early 1900s, when W.W. White & Co was making toffees and the Signet Company was producing chocolates and confectionery – we have an early Signet toffee tin in our history centre.
In 1923 Signet Sweets Limited business was wound up and a new business called White Signet Ltd was formed. In the 1930s White Signet produced the 'Waratah' assorted chocolates and in 1935 began making the very popular 'Milko' hard chewy toffees. The White Signet brand was used extensively for wrapped lollies – we have 13 different varieties in our centre.
The name Mastercraft was used to distinguish products within the White Signet range. The earliest Trove finding for Mastercraft is in Sydney's Il Giornale Italiano starting on 3 January 1940 with a block advertisement for 'WHITE SIGNET's "MASTERCRAFT" CHOCOLATES 2/- CANDIES 2/- SCORCHED PEANUT BAR 3d'.
In 1943 the Mastercraft name was registered, and the chocolates made in the White Signet factory came out under 'Mastercraft' with a reference to White Signet. The first lines, milk chocolate blocks and nut milk blocks in 1 lb. and 2 lb., chocolate assortments and toffee were made until the 1950s. The company name was formally changed from White Signet Pty Ltd to Mastercraft Chocolate Co. Pty. Ltd in January 1954.
Mastercraft also produced several chocolate bar lines and box lines – often with simple but quite appealing graphics [CC 12-13]. The boxes reproduced here both use blue as a dominant colour but have quite different lettering. Was the second box produced for the 1956 Olympic Games in Melbourne?
Some of their toffee tins were highly decorated in full colour and, in the case shown here, the tin was octagonal. They also sold chocolates in tins; an advertisement in January 1954 in The Armidale Express advised that 1 lb. tins of Mastercraft Chocolates were being cleared out at 11/3.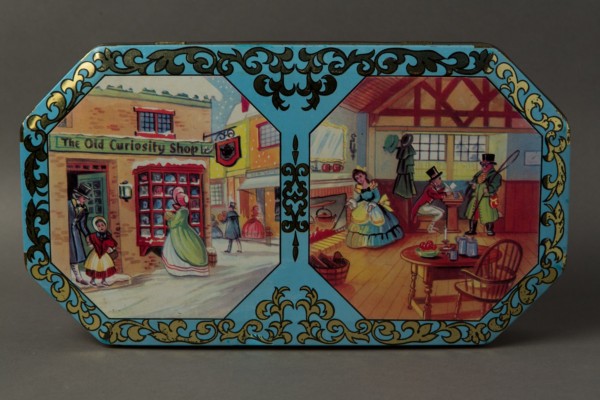 What happened to them?
Mastercraft were bought out by Life Savers in 1964, and the brand slowly disappeared. Operations were consolidated at the much larger Life Savers' site which already included Smalls' famous chocolate. The ever-popular round-shaped 'Coconut Roughs' and 'Mint Patties' survived for some time under the Mastercraft banner.
Thanks for the comments from readers – Coconut roughs were made by MacRobertson's at least and Mastercraft had a product called Golden rough.