PUDDLES, SPLASHES, BLOODY KNEES, SPLUTTER. Did the parent of the 1950s think about blotting up domestic disasters at work?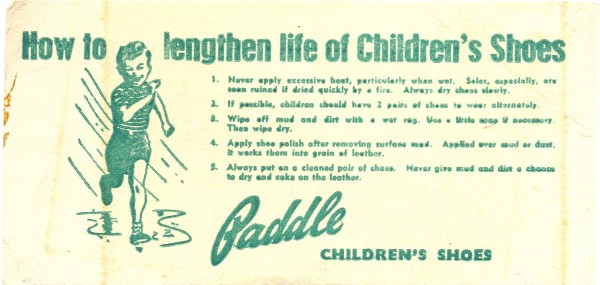 Paddle Brand shoes are first advertised in the early 1920s and continued on through the 1950s (I think they were still marketed in the 1960s if not the 1970s). This blotter is crammed full of information and does not seem to fit well on the page. Did they have no room to include 'the' in the title? On the other hand the boy is having fun and seems to be barely touched by the showers. He is skimming over the puddles rather than paddling in them.
This may date from the mid 1940s. There are newspaper advertisements for the same product, albeit for the treatment of pimples, published in 1945 and 1946. The prices of the two sizes are the same in the newspaper ads and on the blotters.
 This product has been advertised since the start of the twentieth century. Points of difference about the product have changed over the years – the reference to 'contains no harmful ingredients' seems to date from the 1920s. Beautiful group of children with dolls, train on a rope and high socks.