The Royal Historical Society of Victoria has acquired over the years a considerable amount of material relating to Macpherson Robertson. This includes photographs, confectionery packaging, recipe books, company documents, scrapbooks and other ephemera, donated by the Robertson family and by former MacRobertson's staff.
This exhibition showcases this material and gives some account of the life and achievements of this remarkable man.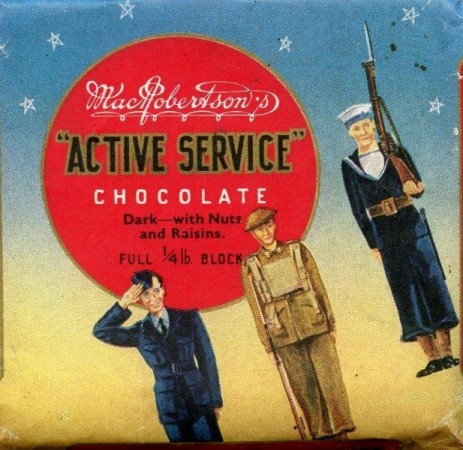 The RHSV has also borrowed extensively from others including the Melbourne Museum and the archives of the confectionery company that now produces the MacRobertson range.
Highlight – the set of dolls and dolls' furniture made by a loving grandmother from sweet wrappers.
When: Running until Friday 4 March 2016 – Monday to Thursday 10 am and 4 pm, Friday 10 am – 3 pm.
Where: Royal Historical Society Victoria, 239 A'Beckett Street, Melbourne. (Closest public transport – Flagstaff Station.)
More about the man (from the Australian Dictionary of Biography)
Sir Macpherson Robertson (1859-1945), industrialist and philanthropist, was born at Ballarat, eldest child of Macpherson David Robertson, carpenter, and his wife Margaret, née Brown. He served an apprenticeship with the Victoria Confectionery Co. and gained experience with other confectionery firms.

In 1880 Robertson began making novelty sweets in the bathroom at home in Fitzroy, hawking them to local shopkeepers.  Robertson was the driving force behind the firm's phenomenal expansion. Some of his flair for product innovation, eye-catching packaging and skilful promotion reflected his world tour of 1893, when he worked in the United States of America. Robertson introduced chewing-gum and fairy floss to Australia, promoting Pepsin Gum through his cycling school, and through testimonials from prominent sportsmen. Employees and customers were offered prizes for sweet-wrapper designs, advertising jingles and messages for 'conversation lollies'….

Dressed immaculately in white, he presided over his Great White City at Fitzroy, a complex of white-painted factories housing several thousand white-uniformed employees. His delivery trucks were drawn by prize grey draughthorses, which he readily lent for public processions and drove himself on Eight Hours Day. His assiduous promotion of the romanticized tale of his business, A Young Man and a Nail Can (1921), gave Melbourne an equivalent of the Dick Whittington legend….

Robertson was the instigator of and major partner in Maize Products Pty Ltd, which pioneered the Australian manufacture of glucose, and in the Federal Milk Co., which made condensed and powdered milk. Subsidiary companies handled his container, paper and printing requirements. In 1926 he bought a controlling interest in Life Savers (Australasia) Ltd, and transferred its factory from Sydney….

Robertson became renowned for his generosity; by 1933 he estimated that he had given away some £360,000. He made substantial gifts to the British, Australian and New Zealand Antarctic expeditions (1929, 1930); Sir Douglas Mawson named MacRobertson Land in Antarctica in his honour. Robertson was elected a fellow of the Royal Geographical Society, London, in 1931 and was knighted in 1932.