RESOLUTIONS ARE USUALLY VERY EPHEMERAL, FEW SURVIVE TO MID JANUARY. Here are some postcards urging serious, and others with immodest,  thought be given to resolutions. These are by and large North American postcards found on the net.
The little series here have heartfelt resolutions, the last two in the 'self help spirit'. The cards are by Whitney. This information about Whitney comes from the wonderful website run by the Metropolitan Postcard Club in NY:
Whitney Valentine Co.   1858-1942


218 Main Street, Worcester, MA

Originally a stationary store founded by Sumner Whitney where hand made valentines were sold. When Sumner died in 1861 his brother Edward took over the business and George C. Whitney joined in 1863. By 1888, after buying out most of their competition they became an important publisher of holiday cards made with their own specialty papers. Whitney had put in embossing and paper lace making machinery in his factory so he could manufacture all card components within the United States. As postcards came into vogue they began to produce them as well to become an important publisher of postcard greetings. Many mechanical cards were also manufactured at this time. A fire completely destroyed their business in 1910. Though George rebuilt he died three years later and the firm was taken over by his son Warren. By this time they had additional offices in Boston, New York, and Chicago. As costs rose in the 1930's they began mass producing cards on plain paper. In 1942 when the Second World War made it impossible to acquire enough paper the company was forced to close. Their cards say Whitney Made or carry a red W.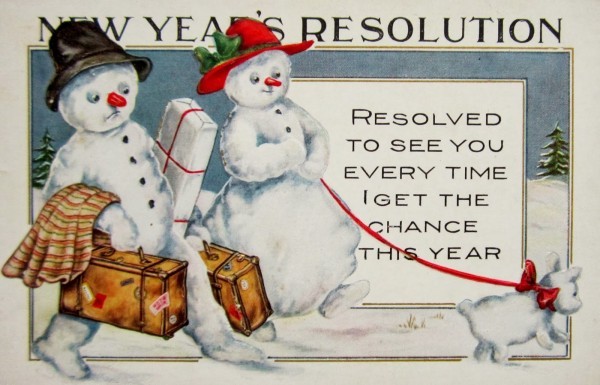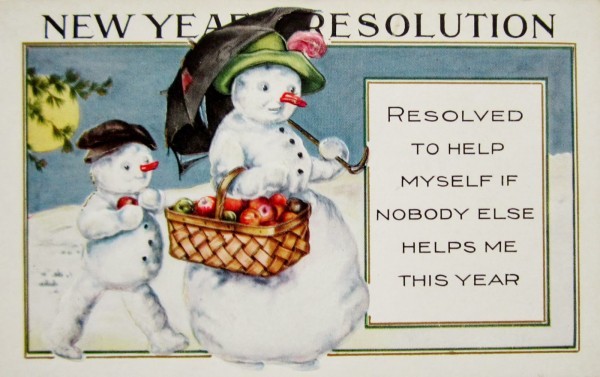 In a similar style, is this snowy resolution scene – it looks like the resolutions are a burden despite the little girl's sweet face.
Modest and immodest resolutions
The mood shifts considerably with this postcard of a 'good time girl' making (im)modest promises to improve herself in the new year. She is wearing a bikini and the 'poster' on the net dates the card as before 1952.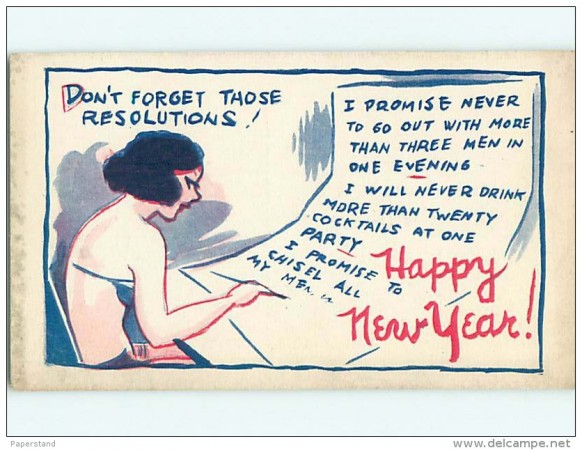 We end with another serious item to get us back on track.