HERE ARE SOME FINDS FROM A HOLIDAY IN SOUTHERN NSW. If you would like to share recent finds (and the places you bought them, let us know on 03 9428 8023).
Member Andrew H, who is usually a fairly focused health and medical collector, found these eye catchers when studying the contents of 
1. Robertson Recollections              
167 Moss Vale Rd (Main St),
Andrew loved the cover and also the contents, especially with the revival of interest in caravans, now.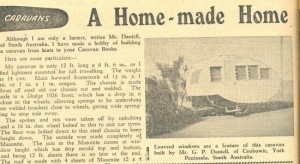 Still on a motoring theme, but at a much higher speed, Andrew found this record of the 1960 Grand Prix: