OP SHOP SALE IN HAWTHORN weekend 24 & 25 October. OP SHOPS HAVE SOME TREASURES, THAT THE OP SHOPS MIGHT NOT ALWAYS VALUE. We have asked some op shops to look out for things that we know collectors value. There is a sale this weekend at the Sacred Heart Mission op shop in Hawthorn (corner of Riversdale Road and Glenferrie Road). Opening hours are 10 am to 5.30 pm Saturday and Sunday.
Here are some pictures of some of the items. There are some really interesting and important items.
It is a clearance sale and not dealer prices.
Alice, Melbourne, 1950?
They include this locally published Alice's Adventures in Wonderland, a Colorgravure Publication from Melbourne c1950. The story is illustrated by Donald Glue. It is missing the dust jacket but is otherwise in excellent condition.
Men's magazines from the early 1960s
There is lots to love about this small collection. The best is the third, one only copy of Peril magazine – the cover story 'The Shark who hated women'.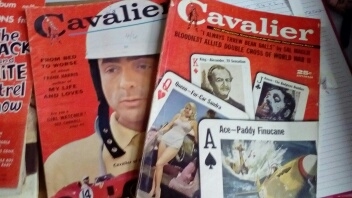 Two little pigs

These are a regular find at op shops and fun.
 There are only a small number of collectables for sale – so shop early.