Paper engineering from the collections of the State Library of South Australia
On display from 14 November 2015 to 27 March 2016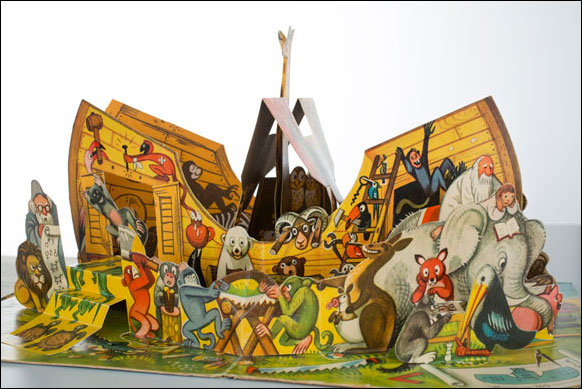 'Noah's Ark' Vojtech Kubasta, 196-?, Children's Literature Research Collection, State Library of South Australia
This exhibition explores the beginnings of moveable books in academia, the history of children's pop-up books, and the use of the moveable format across a multitude of subjects and genres including old story-time favourites, Christmas, sport, exploration, science and music.
Amongst these intriguing pieces you will find a moveable handmade Valentine's card made for bereaved parents, a rare Don Bradman batting-action 'Flicker' book and a record album cover with the band members as pop-up characters.
Other pieces in this display have been drawn from the Children's Literature Research Collection (CLRC) which is one of the State Library's most significant heritage collections. The CLRC contains a wealth of children's literature, toys, games and ephemera, some from prominent South Australian families.
Our feature artist is renowned Czech illustrator and paper engineer Vojtech Kubasta (1914 – 1992). He began his career as an architect in Prague though he soon turned his illustrating skills to creating advertisements.  He ultimately focused on creating children's pop-up books for the State printer Artia, and later secretly for Walt Disney. His signature pieces are large, brightly coloured tri-fold books with the story stapled into the centre. The great surprise is at the end, when the back cover is folded out to reveal the gloriously vibrant pop-up.
When reflecting upon his career, Kubasta said he had wanted to 'create for children a small theatre inside the book'[i]ensuring that children could interact with the story and use their imagination to make the story real.