1922 WAS A PREMIERSHIP YEAR FOR FITZROY FOOTBALL CLUB. Here is a handsome commemorative (OK not intended to be ephemeral) souvenir.
The Souvenir Card has a number of beautiful features: holes at the top for the football laces (maybe it was laced); handwritten annotation of the score; and nicely penned name of the person to whom it was presented (one of the trainers). Thinking about it, the score was an odd omission from the souvenir as of course everything else about it must have been finalised after they won the match.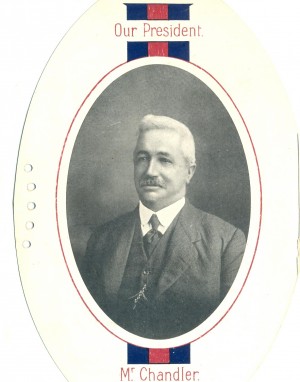 The club president was Cr D.J. Chandler, known as Don. He had a long association with the club; he held this position from 1911 to 1930 during which time Fitzroy won three premierships and was runner-up twice.
Once again the card is annotated with the score and there is also an arrow pointing out 'P. Nelson, trainer'.