The Ephemera Society may be holding an exhibition during Rare Book Week about the ephemera of reading. What might that be in the exhibition? We like 'envelope pushing' definitions.
So the ephemera of reading might include bookmarks, library cards and bags, bookplates, booksellers' stickers, letterhead, advertising and paperbags.
It might also include ephemera showing adults, children and other living creatures reading. 
For members who have received the newsletter here are some highlights from the booksellers' labels that we believe would fit into the exhibition. 

The labels reproduced come from well known, to Melburnians in particular, booksellers like Allan's, Dymock's Hall's, McGill's and A. H. Spencer Pty Ltd.
Only Dymock's and the Hill of Content survive.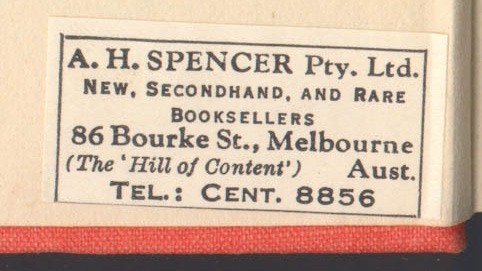 There are also bookseller labels from other booksellers such as the Austral book shop, Swain's of Sydney and Winifred Young of Camberwell, Victoria.
Some research into Austral book shop revealed the following:
in 1948 the shop was trading and was advertising for a lady to assist in the shop – applications by letter to Miss Sutherland. The same advertisement ran again a year later;

in 1949 a small newspaper ad advised that it had 

books suitable for country and sub libraries;

in 1952 a different flavour emerged.
"THE AUSTROVERT." latest number. Special Literary Fund Issue, with book news, poems, criticism. At CHESHIRES and AUSTRAL Book Shops,

Austrovert was a short lived irregular magazine promoting Australian literature but not in the style of academia and literati.
the book shop with a literary bent continued with this larger advertisement in The Age 25 June 1954:
NEW PENGUINS, PELICANS

NINETEEN EIGHTY-FOUR. George Orwell's last great novel. A biting, witty satire on the shape of things that could come, . . . . 3/3

THE PENGUIN BOOK OF MODERN AMERICAN VERSE, Ed. Geoffrey Moore. A comprehensive survey of 20th century American poetry 5/6

THE PENGUIN ENGLISH-GERMAN. GERMAN-ENGLISH DICTIONARY. 575 pages, uniform with Roget's Thesaurus (also 7/6) 7/6

BYZANTINE ART. David Talbot Rice. Fully Illustrated 5/6

THE CASE OF THE ABOMINABLE SNOWMAN. Nicholas Blake. "The finding of the body Is a masterly scene of the macabre" ("Times" Lit. Supplement) .. 3/3

Again available: COMING OF AGE IN SAMOA. Margaret Mead . . 4/-

Postage extra. Write for free monthly lists. AUSTRAL BOOK SHOP 263 COLLINS ST., MELB., C.1. FJ3730.
All quiet until 1965 when the Austral became famous or infamous. This report is from the Canberra times 28 April 1965:
Police seize book MELBOURNE.
Tuesday.—Vice squad police seized almost 100 copies of the book, The Trial of Lady Chatterley today. The Chief Secretary, Mr Rylah. said tonight the books were seized from Mr Paul Flesch's Austral Book

Shop in Collins Street, City, on the advice of the Crown Solicitor, Mr T. Mornane. Mr Rylah said the police had not been directed by the Government or by the Chief Secretary's Department.

Mr Flesch said he would seek legal opinion as to his position.

The Deputy Chief of the CIB, Chief Det.-Insp, J. Matthews, said tonight he could not comment on whether police would seize copies of the book from other shops.
Postscript
The labels come from books in Mick S's salesroom and we plucked at shelves looking for labels in the inside covers of hardbacks. Our strategies were different. Mick associated the labels with books of the 1920s and 30s. The writer opted for 40s and 50s.
For the curious, here is a full list:
1920s
Dymock's Book Arcade, 1927; Angus & Robertson Ltd: New & Secondhand Boksellers Publishers to University, 1929
1930s
McGill's Agency: Booksellers – Stationery, Subscription Agent, 1939
1940s
H. Spencer Pty Ltd: New, Secondhand, and Rare Booksellers, 1945
1950s
Booksellers to a Continent: Robertson & Mullens Ltd, 1958
1960s
Austral book shop, 1961; Hall's Book Shop: New, Used and Rare Books, 1964; Norman Robb Bookshop, 1964; Winifred Young,1964; W. Cheshire Pty Ltd, 1965
No publication date in book
Gatley & Knight, McEwans Store,[ND]
Swain's: Stationery, Books, Artware, Fancy Goods
PLEASE SEARCH YOUR COLLECTIONS FOR EXHIBITS
We would like to showcase material from as many collections as possible, and show interesting and unexpected readers and reading places.
Please photograph, photocopy or scan possible exhibits to mmbede 'THEN USE FIGURES FOR EIGHT TEN' 'AT' gmail.com or A. Bede, 6 Duke Street Richmond 3121.