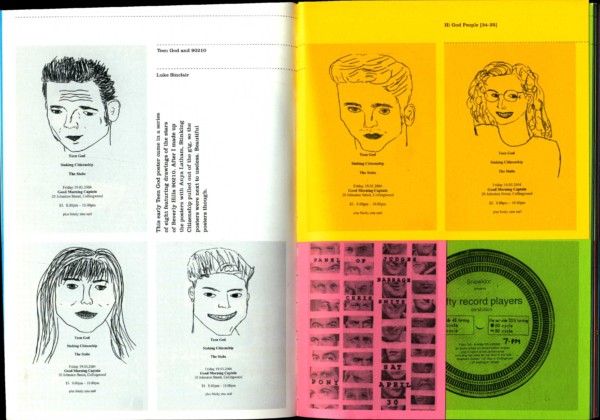 RECENTLY FOUND & ENJOYED AS IT WOULD BE BY OTHER MUSIC OR CONTEMPORARY EPHEMERA COLLECTORS, Hi God people : Melbourne music flyers from the late 70s to last week /​ compiled by Lisa Radford (Prahran, Vic. : Uplands Publishing, 2008), physical description 111 p. : ill. ; 21 cm.
Self-described as:
An untimelined, in progress, visual and experimental document of Melbourne's underground, indie, rock, noise and live music scene in the words and drawings of some of those that made, played, booked and saw.
This book is a collector's item for many reasons:
it is a time capsule of the underground and indie scene in Melbourne late 70s to 2008;

it was designed by The White Studio, based in Fitzroy,  and is in an unusual format. It is printed on card and glossy paper of different sizes. The book itself is 21x15cm; some pages are this size, others are 21×7.5cm, 12x15cm;

it brings together multiple contributors who tell part of their stories about the music and pub scene;

interspersed are reproductions of flyers and posters;

it was printed in a limited edition of 1,000.
At the time of writing August 2019, you could see this book at major libraries (State Library of Victoria, some university libraries and Port Phillip Library). A quick search did not find it for sale anywhere online.
If you liked this but have more mainstream tastes, you may like to visit The Australian Music Vault at the Melbourne Arts Centre.