Cathy Pryor, curator and postgraduate student in Museum and Heritage Studies at Deakin University, looks at a name change reflecting a new awareness about the old names for confectionery:
Growing up in Sydney in the 1970s and '80s, a trip to the corner shop was reserved for hot summer days after school when the vinyl seats of the Datsun burnt the backs of our legs and the metal seatbelt buckle was even worse. Our 'special treat' was a lemonade icy poles, but like many children of my generation, what I really wanted was to fill a white paper bag from the smorgasbord of mixed lollies before me.
These days I know my mother was only thinking of the dental bills when she decreed, firmly, that lollies were for birthday parties only, and on the rare occasions the rules were bent, there was a dubious health-conscious hierarchy to what was allowed. Lolly snakes and fruit jubes were just ok but lollies like Redskins? Forget it. With their stringy raspberry stickiness that seemed to stretch for miles, they were a guaranteed appointment with the reclining chair and drill.
Last June, when Nestle announced it would be retiring the Redskins name as part of a global reckoning from the Black Lives Matter movement,[i] I started to look closely at the Redskins name and how it fits with racial stereotypes and cultural memory. It's a lolly with particularly antipodean heritage. It has only ever been sold in Australia and New Zealand, but with drawings of Native Americans in traditional headdress, moccasins, and tepee motifs on the original Redskins wrapper, it's part of long tradition of 'exoticism' in food marketing.
In Museums Victoria's collection of ephemera relating to cultural stereotypes and racism, examples abound of packaging that speaks volumes about the way ethnicity and Indigeneity have been portrayed. Among the collection are Arnott's Golliwog biscuits, which I also remember clearly as a kid, and Nigger Boy liquorice from the 1950s and 60s with the racist tagline 'it works hard so you work less!'[ii]. As well as the obvious appeal for children who played Cowboys and Indians in suburban backyards, the Redskins name no doubt tapped into the zeitgeist of post war Australia where American influences were on the rise and Westerns were in the midst of their golden age at the cinema.
As Eleanor Warmington and Moya McFadzean have written for Museums Victoria:
Marketing strategies are also utilised to give 'authenticity' and even a touch of the romanticised 'exotic' to products coming from or representing another country or culture.[iii]
Redskins were first manufactured by Mastercraft, a Sydney-based confectionery company which had its genesis in the early 1900s when two companies, Signet Company and WW. White and Co, merged to form White Signet in 1923.[iv] As collector and chocolate manufacturer Will Muddyman has previously written in the Ephemera Journal of Australia, the Mastercraft brand emerged from the White Signet factory in 1943 and the Mastercraft Chocolate Company was officially registered in 1954.[v]
Numerous newspaper and magazine advertisements in 1954 showcased a range of products under the Mastercraft tagline — 'Whatever your taste, part of the pleasure is Mastercraft' — including Mint Patties, Chocolate Roughs and its hugely popular Scorched Peanut Bar [vi]. However, Redskins didn't yet appear, suggesting the lollies rolled off the Mastercraft production line at a later date. Dr Stephen Banham, a lecturer in typography at RMIT, dates the typeface used on the wrapper to the mid-20th century — probably 1940s-1960s. He explains:
'scripts such as this were popular in an era when brands were drawn by simply going to the local sign-writer and asking for your name to be drawn/painted, rather than scripts being consciously made fashionable'.[vii] Late 50s to 60s is the best estimate I have of when Redskins may have first appeared in corner shops around the nation'.
Lifesavers took over Mastercraft in 1964[viii] and when global confectionery giant Nestle took over Lifesavers in 1985, it began marketing Redskins in Australia under the Allen's name. Allen's of course was also a confectionery company with a long Australian history before it was purchased by Nestle in the mid-1980s.[ix]
An advertisement by Nestle in 1991 marking Allen's 100th birthday shows the original Redskins' design had by this time been replaced by a red wrapper without the Native American motif, but the headdress design was still in use on the bag packaging (this time for smaller 'chew sized' Redskins- no doubt an ill-advised and short lived experiment!).[x] A search of Australian trademarks shows Nestle did not renew this design in 1996 and the headdress motif was dropped, with the company just retaining the Redskins name.[xi]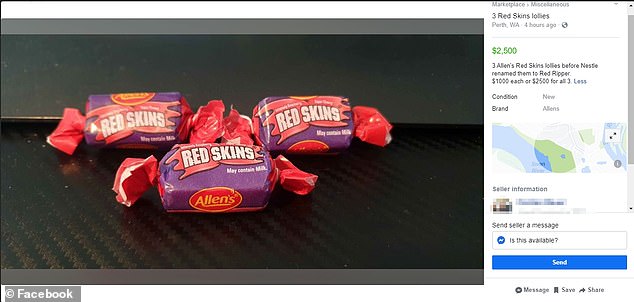 Redskins has long been seen as a derogatory and racist term for Native Americans, the Indigenous peoples of the United States[xii]. In June 2020, as companies around the world took stock of their brands in the wake of the Black Lives Matter movement, Nestle announced the Redskins name would be dropped because it had 'overtones which are out of step with Nestle's values, which are rooted in respect'.[xiii] At the same time the company announcement it would also be dropping the name for its Chico Babies lollies[xiv] —  chico meaning boy or child in Spanish and considered a derogatory term for Latin Americans.
As well as providing insight into how food marketing and packaging responds to changing social values, the history of the Redskins lolly is an interesting case study in confectionery manufacturing in this country. Over the years we have seen the decline of local manufacturing, as once well-known Australian confectionery companies such as Mastercraft, Sweetacres, and Hoadley's have either merged or been bought out by multinationals.[xv] Australians have long lamented the loss of food icons to overseas companies and there is a particular nostalgia reserved for the food memories of our youth.
As Alexandra Vignolles and Paul-Emmanuel Pichon argue, 'food consumption is the one area most likely to take people back into their past'.[xvi]
Nostalgic links and memories can be conveyed by food practices, whose symbolic function contributes to shaping families, increasing intergenerational links, strengthening selfhood or transmitting rituals.[xvii]
For Eamon Donnelly this is certainly the case. In his The Milk Bars Book Donnelly recalls Saturday afternoons punctuated by trips to the corner shop, with instructions to get the afternoon Herald for his Dad, and a list of Tip-top bread and sliced devon for his mum —  the contents of his money box burning a hole in his pocket.[xviii]
We all sprinted, rode our BMXs or strolled to the corner shop as kids, with mates, or on our own, it was the prime destination for sweet childhood experiences.
For generations of Australian children like Donnelly, buying lollies from the corner milk bar was a favourite pastime that provided freedom from adult supervision and the first taste of economic responsibility. This was particularly the case for post-war children who were experiencing financial freedom not seen by previous generations.[xix]
Cultural historian Toni Risson, who did her PhD on lollies and Australian childhood, says:
Buying lollies taught us about value, how to weigh things up and make the right decision. The microcosm of an economy is played out through kids and their lollies. [xx]
Writing in the Sydney Morning Herald in 2011, journalist Stephen Lacey also comments on the role lollies, and Redskins in particular, played in Australian childhoods, with memories divided along generational lines:
It's hard to overestimate just how important lollies were to a generation of '60s and '70s children: they were traded, stolen, talked about and an entire lolly hierarchy was built around them.

 At the top of the ladder were the Redskins, White Knights and Sherbet Fountains….

At the bottom of the hierarchy were the lollies of our parents, the baby boomers: humbugs, aniseed balls, bullseyes, Minties and musk sticks — all considered hopelessly daggy.[xxi]
So, while the retirement of the Redskins name is no doubt an end of an era, and a signal that times have changed, it's also a reminder that new generations of Australian children will create memories of their own, separate and distinct from those that have come before. And one thing is for sure, the dentist will never go out of business.
Republished from Ephemera Newsletter and What's On # 12, June 2021.  
Endnotes:
[i] 'Nestle to change names of Allen's Lollies products Red Skins and Chicos' 2020, ABC online, 23/6, retrieved 1/8/20
[ii] Warmington, E. and McFadzean, M. 2013, 'Cultural Stereotypes and Racism in Museums Victoria Collections', Museum Victoria, retrieved 1/8/20
[iii] ibid.
[iv] Muddyman, W. 2020, 'Sweet Times 2020- have we been here before?', Ephemera Society of Australia, weblog post 10 August, retrieved 1/8/20
[v] ibid.
[vi] 'Whatever your taste part of the pleasure is Mastercraft', advertisement, The Australian Women's Weekly,  7/7/54, page 24, retrieved 10/8/20
[vii] Email with S Banham, 28 July 2020
[viii] Muddyman op. cit.
[ix] Shoebridge, N., 'Nestle sweeps out the lolly shop in preparation for war', Australian Financial Review, 7/12/90, retrieved 24/7/20
[x] Nestle, 'Allen's 100th Birthday', advertisement, The Food Shop Journal, Vol 21. No. 4, pp unknown (from the private archive collection of Eamon Donnelly)
[xi] IP Australia 2020, Redskins Australian trade mark search, Australian Government, retrieved 10/8/20
[xii] Shapira, I., 'A brief history of the word 'Redskin' and how it became a source of controversy', The Washington Post, 4/7/20, retrieved 11/8/20
[xiii] Nestle, Nestle announces changes to product names, media release, 23/6/20, retrieved 24 July 2020 https://www.nestle.com.au/en/media
[xiv] ibid.
[xv] Writer, T., 'Lollies we love', Good Food, SMH, 29/6/13, retrieved 1/8/20
[xvi] Vignolles, A. and Pichon, P., 2014 'A taste of nostalgia: links between nostalgia and food consumption' in Qualitative Market Research: An International Journal, Vol. 17 No. 3, pp. 225,  DOI: 10.1108/QMR-06-2012-0027
[xvii] ibid. pp 229
[xviii] Donnelly, E., 2018, The Milkbars Book, pp 10
[xix] Writer, op. cit.
[xx] ibid
[xxi] Lacey, S., 'Of Redskins and Black Cats', Newcastle Herald, 16/9/11, retrieved 1/8/20