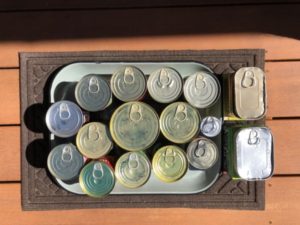 David Harris has found something new to explore: Whenever tinned or canned goods were marketed, the easiest or best way of opening them has led to a wide range of innovative designs. Whether contents were food, beverage or an increasing variety of products for example tennis balls, the devices deployed have been simple and portable or mechanical and even motorised. (Automatic can openers are in fact motorised to make life easier. Google it, they are being advertised today.)
BEFORE RING PULLS
To remove food usually requires the whole lid to be removed. To pour or drink liquids directly from the can two piercings were thought to be best. Can piercing tools were small and easily misplaced. Improvised implements were often unsuccessful.
An autonomous design was the sought. Bingo! The ring pull. Opened the top with a larger slot. Trouble was the ring detached and was not always "disposed of thoughtfully". Into this relatively short-lived situation stepped a comic creation : a one-off character portrayed by Garry McDonald, between gigs as Norman Gunston and Arthur Beare (ABC television's Mother and Son) a satirical version of Harry Butler and his In the Wild television series. In the Suburbs, found him tracking a carelessly discarded soft drink can. This he duly captured under his trademark battered bushman's hat. He reached under the sweat-stained Akubra and grasping his prey gently rattled the subdued creature speaking to the camera : "If you listen carefully you can hear it's little ring pull."
Further tweaking of the design means the ring should now stay on the can. The 'flange' folds inside and does not add an annoying little component to the litter stream. It may be an urban myth, but it has been asserted that the metal in some rings have sufficient value for them to be worth cashing in. Some drummed up excitement surrounded the recent announcement that Victoria was finally about to launch a buy back scheme for bottles and cans. Anticipation was quelled by the revelation that the program would not commence until 2023!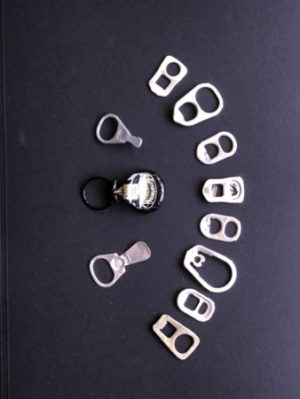 Small 'tin' or aluminium cans are popular vessels for single serve pet food, seafood or other snacks. Infant or child-sized portions were for a time marketed as Snakpaks. The slogan "If it wasn't for snakpak a kid'd starve" was accompanied with the satisfying sound of the lid being removed. I subsequently heard this phrase uttered by a thirsty biker as he ripped the top off a VB tinny.
Snack pack appears to have morphed into food pouches for pooches (my phrase, not copyrighted) or Halal servings of cooked meats.
There are many variations on the basic device, which may be a way round paying rights to an existing design. Unlike the legend created by J.R.R. Tolkien in The Lord of the Rings; there is not one Ring to Serve them all.
Originally published in Ephemera Newsletter and What's On # 11, March 2021.