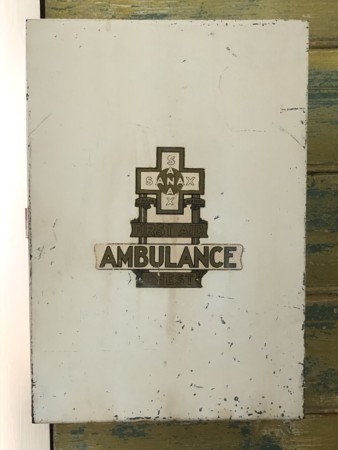 SEASONAL HUNTING AND GATHERING IN YOUR OWN HOME during the flu season, that is. ESA member  David H reports on a 'find' from the back of his first aid cabinet. 
Season's greetings, flu season that is: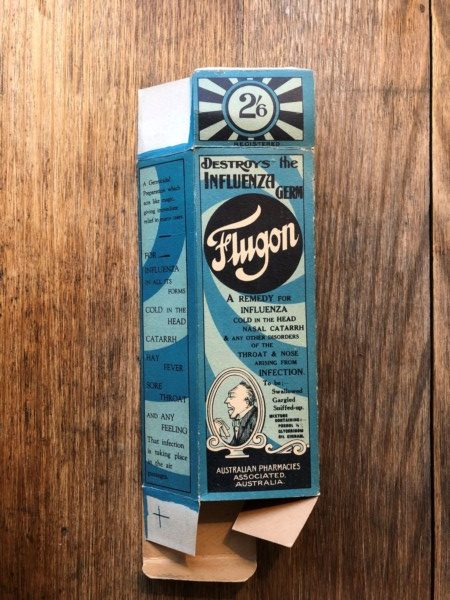 This packet was at the back of a vintage, wall-mounted first aid kit, purchased in 1987 at Camberwell Sunday market. The cabinet was subsequently used as a 'prop' to display medical collectables in the first Ephemera Society of Australia exhibition at the State Library of Victoria. Since then it has served as an repository for bandaids, disinfectant, suntan lotion, and insect repellent in a domestic laundry. 
A minor finger injury, treated with a proprietary brand antiseptic lead to the re-discovery of the Flugon packet. This was also purchased at Camberwell market, empty and in unused condition. The pre-decimal price dates it to pre 1966, but lettering and almost-deco graphics suggest prior to Second World War. 
We will surely look back at the Corona Virus Pandemic of the past few months and however long it takes till a return to 'normalcy' as a significant marker of time.
Searching Trove as we do Flugon seems to have hit the shops in 1924.
From  the Southern Argus and Wagin-Arthur Express (Perth, WA ), Friday 6 June 1924, page 2:
FLUGON—The new cure and preventive for influenza. This cure has arrived from Sydney and is obtainable From the Pharmacy. Price 1s 6d *
In 1925 Flugon was just one of the products in the chemist advert, National Advocate (Bathurst, NSW), Monday 29 June 1925, page 3:
THE BATHURST PHARMACY

KELLY'S INFLUENZA MIXTURE 2/6.

BARON'S FLUGON 1/6 and 2/6 LEMON BALM for the hands 2/-.

ALL NYAL'S GOODS STOCKED CORN CURE, 1/3. TOILET POWDERS AND PER [this rather unusual line break was in the original ad.]
FUMES AT CITY PRICES
P. KELLY, M.P.S., Ph.C. DISPENSING CHEMIST. 167 HOWICK STREET.
1926 – Maybe Boris Johnson needed an early dose of a product like Flugon, South-Western News (Busselton, WA ), Friday 2 July 1926, page 2:

YOUR CHEMIST IS MORE THAN A MERCHANT.

Influenza Scourge

FLUGON is the remedy you should have handy to prevent it.
One dose gargled and swallowed in the early stages will save you a week in bed.
Two sizes, 1/6 and 1 2/6 per bottle.

Obtainable only from
Edgar Coates, M.P.S.,
Phone 27. CHEMIST. BUSSELTON
1927 – The claims for Flugon hit their high point this year, South Western Times (Bunbury, WA), Thursday 4 August 1927, page 2:
DESTROYS THE INFLUENZA GERM.
FLUGON
1/6 and 2/6 a bottle.
A REMEDY FOR— INFLUENZA, COLD IN THE HEAD, NASAL CATARRH

obtainable AT Carr & Co., THE CHEMISTS ON THE CORNER VICTORIA AND WELLINGTON STREETS.
1929 –  the range of benefits increased but the power of Flugon was taken down a peg – no longer a claim that the germ will be destroyed, South Western Times (Bunbury, WA), Saturday 1 June 1929, page 6:
 FLUGON THE MOST RECENT AND SCIENTIFIC PREPARATION FOR —

Influenza     Cold in the Head      Sore Throat      Nasal Discharges     Catarrh    Coughs    Colds

AND ALL DISORDERS OF THE AIR PASSAGES OF BACTERIAL ORIGIN.

In Bottles at 1/6 and 2/6 (double size).

OBTAINABLE AT Carr & Co.,

THE CHEMISTS ON THE CORNER, BUNBURY. TELEPHONE 10.
The greatest number of advertisements and the biggest claims for Flugon appear in the 1920s. Advertising dies out in the mid 1940s when still at the price point of 2/6 it is 'just the thing for those feverish colds'.