'Ship menus, with their delightful cover illustrations, have always been cherished mementoes of a long sea voyage. Menus were printed on-board for breakfast, lunch and dinner, as well as gala events such as Captain's dinners, Christmas meals, equatorial dinners, fancy dress balls and landfall dinners. They often featured illustrations by well-known Australian and international artists and graphic designers including Douglas Annand, F W Baldwin, Dorrit Dekk, Charles Sidebotham (Strom) Gould and Kay Stewart. Illustrations ranged from ships and overseas destinations to flora, fauna and well-known stories. Ship menus document the meals, social events and entertainments onboard passenger liners, cruise ships and naval vessels over a 100 year period. They are valued as souvenirs and also provide a visual record of the work of prominent artists.' (Quoted from the Australian National Maritime Museum's catalogue entry for its large collection of ships' menus.)
AJAY's displayed menus were from M/v Australia and M/v Oceania, two of three near identical sister Italian passenger ships owned by Lloyd Triestino.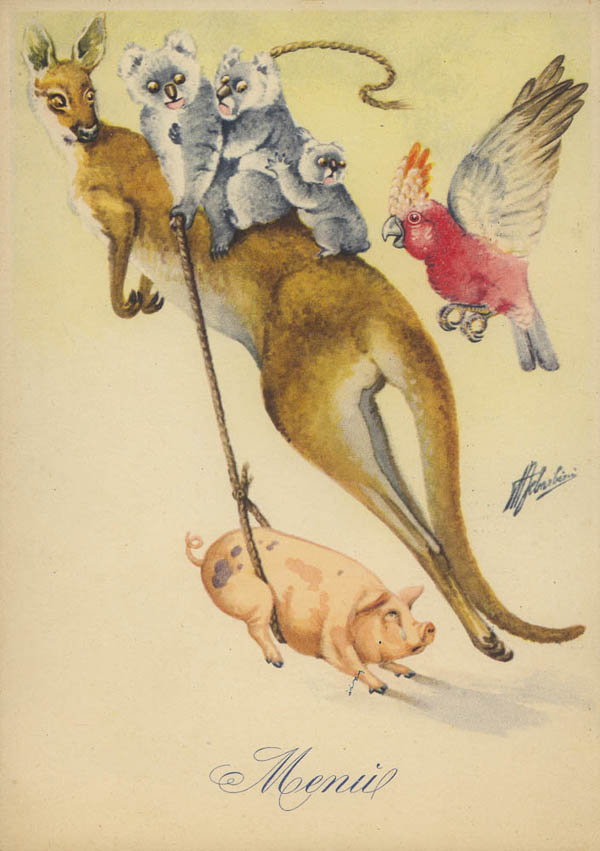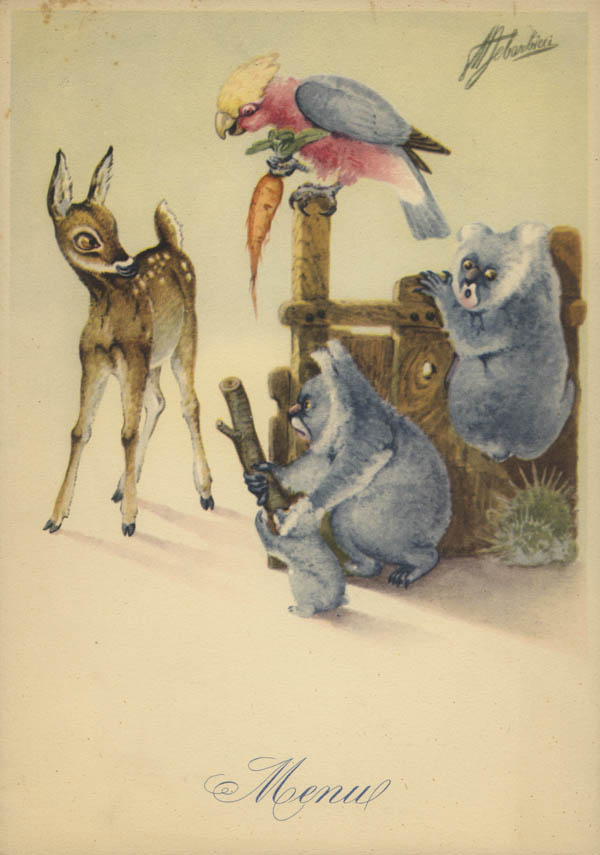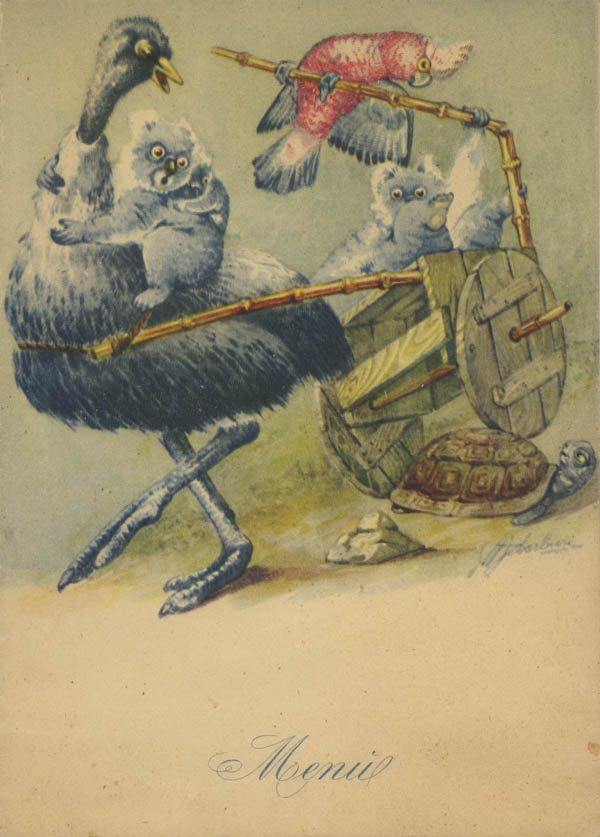 ESA member Barry P provided some further ephemera relating to Australia and Oceania and some background information about the ships. Postcards were available to passengers. This colour postcard is of the Oceania [1951-1963]. They also provided a program of the day's activities – for the first class passengers on 10 June 1960, this included trap shooting, cocktails, two concerts and a ball to mark the end of the voyage.  The program design includes the Southern Cross. A daily newspaper was published and the example shown reports serious political news of the day from the United Nations, Tunisia, Algeria, Moscow, Uruguay and Cape Canaveral.  It was produced by a London news agency.  The example reproduced was for distribution in Australia, Africa and Asia.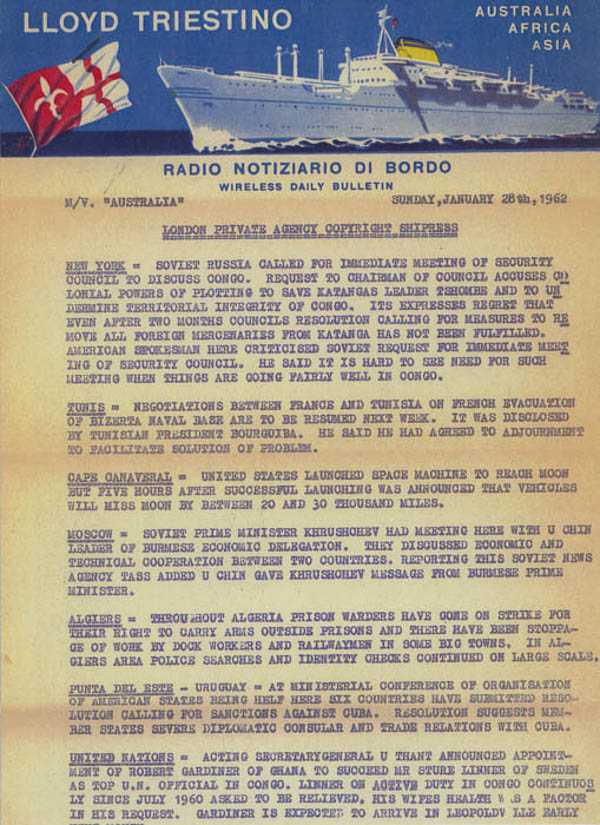 Australia, Oceania and Neptunia
The ships were built in Trieste by Cantieri Riuniti dell Adriatico and completed in 1951 named Australia, Oceania and Neptunia.  All three were motorships.  Each ship was 161 metres long and 21 metres wide (approximately 13,000 gross tons).
Australia, Oceania and Neptunia were on the Australian run from 1951 to 1963.  They travelled  between Genoa and Sydney stopping at Naples, Messina, Port Said, Suez, Aden, Colombo, Djkarta, Fremantle, Adelaide and Melbourne.
The trip from Italy to Australia took about three weeks (speed 18 knots).
From 1951-1958, they each carried 280 first class, 120 second class and 392 third class passengers.  After 1959 this changed to 136 first class and 536 tourist class.
In 1963 the ships were transferred to another run and Australia and Oceania were renamed Donizetti and Verdi.
In 1976 the three ships were sold for demolition.
Contribution from Barry P.
Major collections in Australia
The Australian National Maritime Museum in Sydney includes a collection of nearly 1,000 menus from passenger liners, cruise ships and naval vessels (1890s to the 1990s).
The collection includes menus, menu cards, unused menus and souvenir items such as silk fan menus. The naval material was usually produced for Christmas lunch.
Parts of this collection are digitised and available on the ANMM website. (We could not find them easily on the site.)
EDITOR'S NOTE: if you have a collection of ephemera you would like considered for display on this website (either relating to this post or on another topic), please get in touch via the comments box below with a description of your items. A member of the editorial team will respond within a short time. You don't have to be an ESA member to contribute but we do encourage non-members to join the Society.