TODAY, ALMOST ALL TICKETS TO THE THEATRE ARE ELECTRONIC, OR OCCASIONALLY PRINTED BY OLDER FOLK FROM THEIR DESK TOP. WHOOPS, YOU CAN STILL GO TO SAY A TICKETING SERVICE AND YOU WILL GET A PRINTED TICKET. When did the transition from theatre specific tickets happen?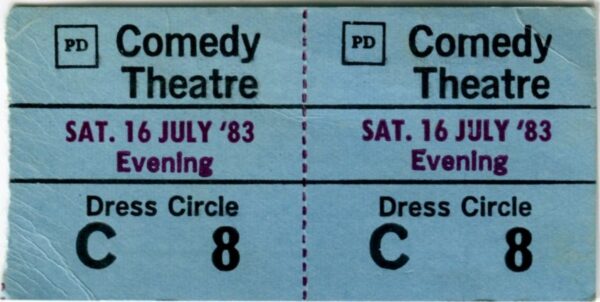 A former member of the ESA Pat G of Port Melbourne has been downsizing and through her daughter passed on some ephemera. It includes a batch of tickets from the 1980s. The earliest couple, 16 July '83 and 15 March '84 is a basic design on blue and pink card  respectively with the dates and sessions overprinted##.
The Victorian Arts Centre is generating the well-known mauve, pink and white BASS ticket by 21 March 1984. The ticket includes the additional information of the event code, production name and price. The National Theatre were still producing their own tickets with overprinting of the production name, Torch Song Trilogy – was there just enough space to print the title, date and session time.
I was going to say that by 1983 a standard design for BASS tickets had been established. But a group of tickets from 1984 and 1988 FRIENDS PREVIEWS, the PERFORMING ARTS MUSEUM and a new production at the Princess Theatre are: in portrait not landscape format; in solid colours; and in different colours.
On 23 July 1985, the BASS ticket for the PLAYHOUSE THEATRE includes a fishy figure in a top hat. This continued to at least 1987. On the Facebook page my query about the fish has been answered – its a bass.

The major Melbourne theatre, the Princess, unsurprisingly still produced its own tickets: this one for Sweet bird of youth with its star, Lauren Bacall named is from 1986. The producers are also named. Does this make it a nicer souvenir of the experience? (There is no price information – now I wonder why other tickets record this.)(Now I think they should, otherwise it will be hard to find this out – it won't be in the programme, where else might a researcher find it? Advertising?)

An exception to the earlier tickets seems to be this one from the MTC, on its own portrait style ticket. The production isn't named, and the holder is recommended that the holder should 'please check the daily press for commencement times'.
Wrong again, BASS and have another version, a background of mauve stars on a pale peach background with BASS spelt out in the same colours. The tickest are for a variety of theares and events: a  one offer event at the Tennis Centre, 10th Apr 1988; a production at another prominent Melbourne theatre, The Athenaeum 16 April 1989;  the Melbourne Theatre Co., at the Arts Centre, 24 June 1989; the Australian Opera on 2 Apr 1990. (Minor details vary across these examples – for example the style of the date.)