SEE SOME MARVELLOUS AUSTRALIAN POSTCARDS FROM A TERRIFIC COLLECTION. At our Cabinets of Wonder exhibition, 12 July–22 Aug 2016 at RHSV, 239 A'Beckett St Melbourne. All welcome. Bring your friends. Entry is by gold coin donation. We reprint the exhibition guide for EP (there are more than 40 entries. If you want a copy please send payment of $10 to the Ephemera Society of Australia Inc c/- 6 Duke St Richmond 3121 – for costs including postage and handling.)
Exhibit Number: 1905 Exhibit: PRETTIER THAN TWITTER Collector: EP Occupation: Accounts payable clerk ESA member: 20+ years
*1905 is an important year for Australian postcard writers – it was the year when the divided back was introduced and messages could be written on the verso.
EP: I had always kept postcards that were sent to me. When I met my husband Ken, I spent time with him visiting antique markets because he was a toy soldier collector. Ken also looked at postcards for pictures of uniforms. I started to collect some postcards while Ken was looking through them. When I think about it my appetite had been whetted when I was young as the local library in Malden, Surrey where I lived, had a wonderful exhibition of early postcards of the area.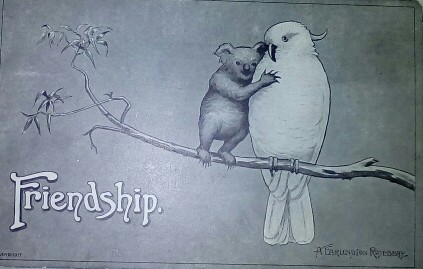 The postcard developed from a non-personal card (on one side the address, on the other the message). The idea although reluctantly accepted by postal authorities took off and raised unexpectedly high revenue. The postcards were popular for their novelty value; cards were kept; soon albums were sold and a hobby developed.
When governments began to legislate so that messages could be written on the divided back of the card, the usefulness of the postcard increased.
German printers led the way with quality images. In Australia, German printers were kept out of the market during WW1. The same war saw a marked increase in the use of the postcard to send home portrait postcards and other novelty cards from Europe. EP's display is chiefly of postcards published up until WW1.
Source: Rickards, Maurice The Encyclopedia of Ephemera 2000.
Further reading: Cook, David Picture Postcards in Australia 1898-1920 (Lilydale, Vic. Design Studio) 1986.