SPRING IS THE TIME OF FLOWERS AND GARDENS. We look at a variety of ephemera showing flowers and plants.
Calendars
This 24 page stapled pamphlet was probably published in 1985 (according to the catalogue of the National Library of Australia – one of the two major libraries holding this pamphlet). The artist Mary Edwards was also known as Dame Mary Edwell-Burke (1894 0r 1896-1988) ; there is a Facebook page devoted to her. This shows that there are two like publications with the same title. Edwards was born in Sydney and studied art in Sydney and Paris. She is best known as a portrait painter, but also painted scenes from her frequent trips to the Pacific Islands. 
Promotions
This postcard has a perforated butterfly that could be liberated from the card. We presume this fits with the opera's story – Madame Butterfly is the story of a young Japanese woman who waits patiently for her American naval husband. He returns but with his American wife. She is liberated by her death.
The environment
Googling hasn't found any link between the slogans, too ordinary to be called slogans really, and any conservation groups. We presume they are Victorian as the possum is most likely a reference to the Pygmy or Leaderbeater possum for that state.
Wrapping paper and cards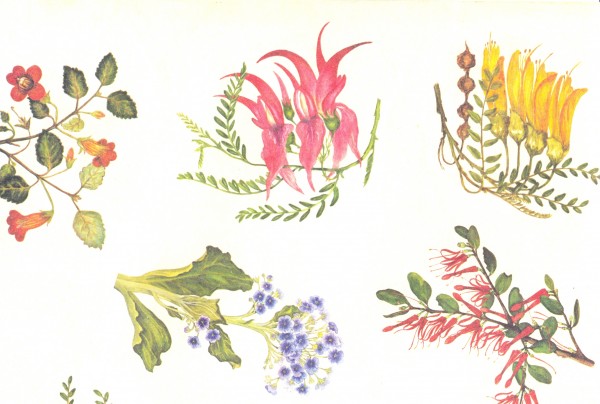 This wrapping paper shows 10 flower designs; they are repeated over the paper. The flowers are not identified. Claverhouse Cards which produced the wrapping paper operated in New Zealand between May 1980 and October 1993. We have not been able to locate any information about the artist, Marie Turnbull.
Gardening 
These types of ephemeral items are a fund of information. This issue includes, of course, photographs, drawings and technical information about plants and trees. The bonus information is the advertising and lists of Australian plant societies. The advertisement are about nurseries and plant farms selling native plants. The advertisements are about 20 words long and give names, addresses and information about the range of plants sold.