QUESTION ANSWERED – SOFT DRINK DATING ASSISTANCE NEEDED — ESA MEMBER EAMON DONNELLY WHOSE WORK YOU MAY KNOW FROM HIS MILK BAR BOOK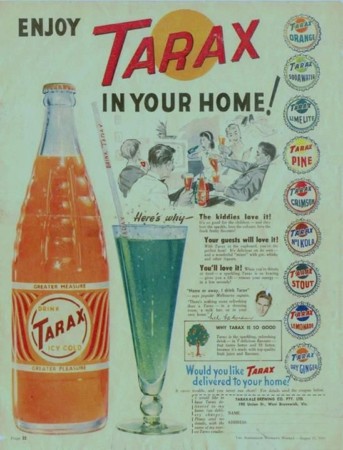 Naturally, Eamon hunts out wonderful advertising, packaging, slogans +++ about milk bars. He is hunting for a publication quality image/original for this advertisement. He found this scan via our friend the web. And now knows that it appeared in a Victorian edition on 15 August 1956. He has located the original magazine at the State Library of Victoria and will get a copy – the original pages is white not green.
Why was his search unsuccessful?
He went to Trove looking for the original magazine as you do, but this advertisement doesn't come up in a search.
(He and I did an advanced search
– in the Australian Women's Weekly
– type of information – advertisement
– including the word Tarax.
There are Tarax ads but not this one. An advanced search for just the slogan "Enjoy Tarax in your home'  produces a nil result. 
Next Step – check with as major library info desk – the Australian Women's Weekly on Trove is the NSW edition. There are different editions – Eamon confirms – different  covers, different advertising.
Can anyone help with a date? Maybe the bottle tops are a clue? Or the flavours? Tarax stout anyone?
Check out Eamon/contact him via this link