WHO DOESN'T LOVE THE FRIVOLOUS OR INDULGENT 'FANTASY' DIARY, THAT MAKES EVERY DAY A WALK IN THE PARK, BEAUTIFUL COUNTRYSIDE OR A LAUGH?
THERE HAS ALWAYS BEEN A BUSINESS SIDE TO DIARIES AND HERE ARE SOME FROM RICHARD FELIX'S COLLECTION.
Remember if you can help Richard add to his collection please contact him on 0424 071 713.
Kalendarz Lenarski, 18 x 13 cm, was published for pharmacists; it comprises a Kalendar na rok 1961 and a 460+ page of pharmaceutical information.
The calendar has a plain cover, information page and then a 2 weeks per double page layout. Of note is that the name day information is included. For example,22 Maj 1961 is the name day for Heleny. Here is an extract for July.
Basic prescription information is included in the back pages. The accompanying information book has a plastic dust jacket and some beautiful colour advertisements for products.
Richard found this at the Cat Op Shop in St Kilda (no longer there). This was the only diary that the kindly proprietor could produce for Richard but it is a beauty.
A Dialogue of Form and Colour 1987 published by Rosenthal
Richard notes that it is a really well done diary on glossy paper, full colour prints, with a 3D image of a cup on the cover. An inside page indicates that it was issued for distribution by Georges of Collins Street . It has an information page, year's calendar for 1987 and 1988, a planner section and then a page for the week usually including a beautiful photograph of a Rosenthal product. Information is included about Rosenthal designers.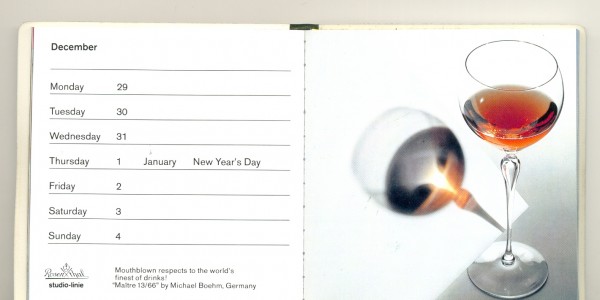 The AMP diary for the year 1916 was published in Sydney 
The cover is thin coloured card. Like many publications of this time, a variety print faces are used.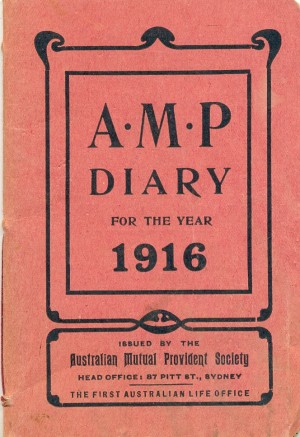 The diary has some information pages about the AMP, phases of the moon, a nice layout with a memorandum section varying in size and space for daily notes (no lines).
Probably purchased at Camberwell Market, before it became too expensive
1982 Pilbara diary, 23 x 20 cm, published by Hamersley Iron
It has a spirex binding and card cover. Special local information is included like cyclone warnings, and information about the mining equipment at Tom Price and Paraburdoo.
The diary itself is sprinkled with double page photographic spreads about – the local environment, development, water, festival time.
Richard bought this from Derek Orchard who ran 'All at sea bookshop', Toorak Road. The shop folded in about 2000 in unfortunate and unfair circumstances.
Gerrards of Swinton 1964 centenary year
This diary has a handsome leather-like stitched cover with spirex binding hidden by the cover. This was published 'to recall with respect and gratitude all those who have dedicated their lives to securing the fortunes of the Company'.  Gerrards was a carpentry and joinery. It has a beautiful layout and contemporary and historic photographs and sketches of the business, buildings and town.
This diary was found at the Tyabb Packing Shed.
The Australian Beef Eaters Diary 1977, 18 x 10 cm, was published by the Australian Meat Board
It includes a chart of a beef carcas, cooking hints, recipes, origins of words and phrases.
It is full of really interesting information about the origins of/the meaning of ritual slaughter, the sandwich, the cold shoulder.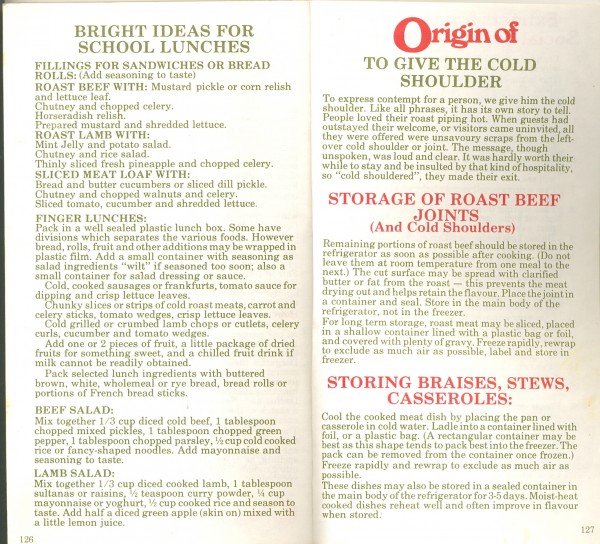 This was also from Derek Marshall's shop.
Remember if you can help Richard add to his collection please contact him on 0424 071 713.