AFL FOOTY FANS KNOW THAT THE TEAM AND FANS REGULARLY MIGRATE TO TASMANIA FOR MATCHES AT THE AURORA STADIUM.

The local museum and art gallery, QVMAG is hosting a big Hawks exhibition opening on Friday to coincide with this weekend's game. We believe that a highlight will be Peter Hudson's duffle coat complete with badges. The exhibition opens on 6 June and is open to the public from 7 to 29 June 2014>
The exhibition is hosted by QVMAG in conjunction with the Hawthorn Football Club. We are Hawthorn is an exhibition on the history of the club and its place in the ongoing story of the AFL in Tasmania.
All eleven Premiership cups won by Hawthorn, including the 2013 cup, will be transported out of Victoria and displayed at the QVMAG Museum. The show will also include a wide range of iconic memorabilia and objects that relate to the history of the club, the grand final games and the long list of Tasmanian players.

Almost 30 Tasmanian players have represented Hawthorn in the VFL/ AFL competition, including Hilton Buckney, Peter Hudson and Grant Birchall. The exhibition will highlight the significant role that these players have made to the club through images, objects, sound and video.
Find out more at the museum's site. 
Thanks to our Tasmanian correspondent Rhonda H for this story.
Our members' Hawthorn ephemera:

 Ken Piesse produced this item of Hawthorn history:
Francis Doherty has provided these Hawthorn items: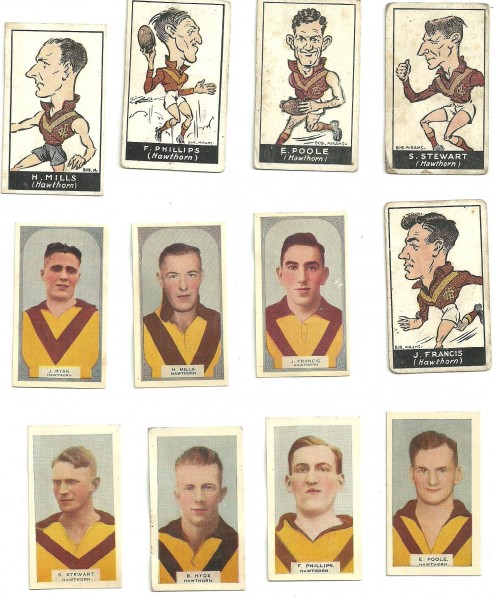 Rick Milne shares a piece of Hawthorn player ephemera. Rick advises that Rod Lester-Smith played for East Fremantle FC, then made the long trek east to play for the mighty Hawks. He was a sturdy defender, playing 70 games.