WE HAVE TEMPORARY OWNERSHIP OF 3 BOXES OF SMALL DIARIES KEPT BY A MELBOURNE BUSINESS MAN. We have been searching them unsystematically.
We would like to do them more justice one day looking at them systematically but we are sure true collectors will enjoy this insight into a wonderful document of the minutiae of ordinary life. Although I described Ian B as a businessman, which he was, the records are of meals, junk mail, clubs and other hobbies, plans for small carpentry jobs, theatre outings…
Ian B glued his packaging, tickets, bills, serviettes and the like into the diaries. He used desk calendar pages to mark the passing of days. He kept detailed notes about mail received and household expenditure.
As the items were glued across pages, sometimes not very straight on the page, our reproductions have some loss of quality. But we say they remain of interest.
From the 1970s
This Paul's ice confection has a fierce dark queen on the cover. It is not clear how the name relates to the icy pole. Of note is the warning 'Littering is a Mortal Sin- place my wrapper in a Bin!'
This page combining two souvenirs of the meal shows that they didn't eat pizza – bill is for the buffet; wine was cheap; and a gratuity (tip) was built into the bill in 1977.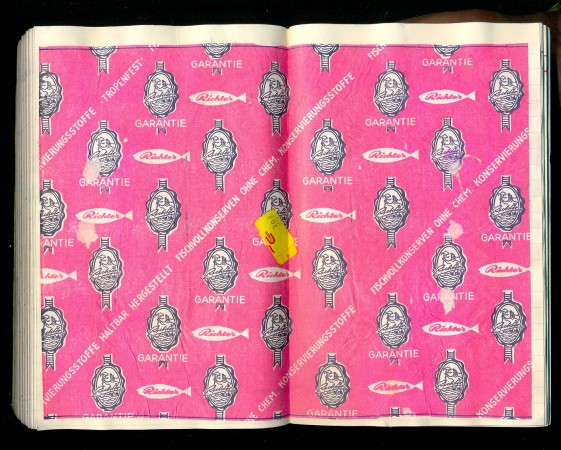 This page demonstrates how Ian made big visual statements with some packaging. There is little useful information about this part of the night's meal – but he shows off the lovely pattern of the fish 'wall paper'.
This is of interest as the active figure is a female playing netball; this is an early use of an active woman as an advertising role model. Is it a flow on from IWD in 1975?
From the 1980s
This extract shows you additional information Ian recorded – number of oranges in the bag, price and part in expenditure on the trip.
This is part of a flyer, glued in over 4 pages,  including floor plans for an expansion of a shopping centre out on Ferntree Gully Road.
From 2000s
Yes, these diaries go into the next century – they are of course not of as immediate interest like the earlier material.