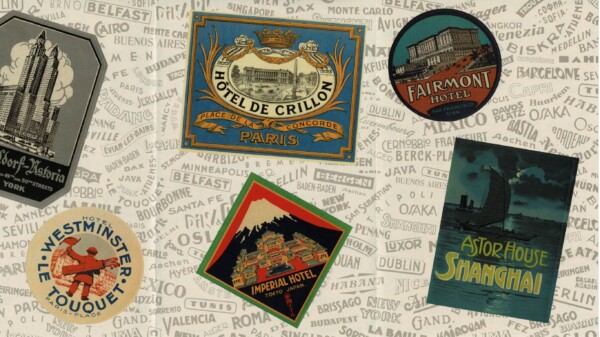 World Tour: Vintage hotel labels from the collection of Gaston-Louis Vuitton by Francisca Mattéoli. Published in 2013 by Xavier Barral, Paris.
Review by ESA member Wendi Bradshaw.
In the beginning…
In her forward to 'World Tour', author Francisca Mattéoli reveals that some of her early experiences revolved around hotels, due to the wandering of her grandparents. Indeed, she suggests this is the formative reason behind her passion for travel and travel writing – Mattéoli is the author of several travel books and has written for Conde Nast Traveller and National Geographic France. This book was made in collaboration with Louis Vuitton, designed and published by Xavier Barral, translated from the original French. If it weren't for the sparseness of text, it could be considered Mattéoli's magnum opus – yet it still offers great insight into the travel ephemera of hotel/luggage labels (the terms are used interchangeably). In itself it is a beautiful, well-presented book. It contains romantic tales of travels and far-off places and importantly, reveals a wonderful assortment of nearly 1000 hotel label images and many postcards. 
Early on we meet Gaston-Louis, grandson of Louis Vuitton, and his interest in luggage labels is explained. He was "… a man of many interests (who) loved his 'office-laboratory-library-museum' filled with old trunk-making tools, period illustrations, manuscripts, and hundreds of other precious finds" (p. 13), including the labels taken from trunks made in his grandfather's business.
Following this is a chapter "A brief history of hotel labels" written by Joao-Manuel Mimoso, which is a collection of three articles previously published in the French Ephemera Society's 'Le Vieux Papier' (established 1900). The discussions are necessarily Euro-centric and give important background regarding hotel label design evolution and manufacture, for luggage attachment (if desired by the hotel guest). These 14 pages are detailed with technical and cultural information around label development, highlighting specific graphic design styles and influences. The remainder of the book's text centres around stories from the hotels and people who visited them.
Artful beauty in a book
This book is beautifully designed. The elegant pattern printed on all edges of the text-block extends into the interior of the book straight onto the endpapers, in rich marigold printed with travel destination names. The book is leather-cased and embossed with a deco-styled pattern. It is wrapped in a magnetic clasped, fold-out (faux) leather-backed map of the world, nested inside some carefully cut and printed, cardboard protective packaging. You could probably discard the packaging – yet the travel-ready feel of the packaging complements the book. Excitingly, within a pocket of the map is a folded concertina containing eleven adhesive travel labels, just ready to be peeled off and stuck on to your own luggage (of course you wouldn't, would you?).
In on-line discussions about luggage label authenticity, I have read complaints about these stickers – how unscrupulous persons may adhere them to old suit-cases to exaggerate or fake their provenance; a pointless ploy really, given their bright designs and colours. At least this may serve as a bit of an alert for the wary luggage label collector. In any case (pardon the pun) much better to keep the label stickers pristine with the book as a set, to admire.
Romantic tales of travel
At 500-odd pages it's a hefty, if compact book (sized 17 cm x 24.5 cm x 4 cm). Yet there are no more than two or three printed pages of text per chapter. In a fabulous allusion to travel, each chapter is individually themed: for example, Stopover 13 is 'A rest by the alpine lakes'; Stopover 15 is 'The sunny Mediterranean', and Stopover 17 is 'Magic of the East'… you get the idea. Occasionally a poem or quotation will grace a stopover: for example, Dylan Thomas' 'Bright green sea' sits beneath the 'Royal Bath Hotel, Bournemouth, England' hotel label in the 'So British!' stopover. Gaston-Louis Vuitton is quoted throughout the 'Paris, city of lights' stopover, commenting on memories from various hotels prompted by their labels – these are entertaining and revealing.
The remainder of each chapter contain colour reproductions of hotel advertising labels – most pages have one to three images – with one reproduced postcard paste-inserted or 'tipped in' to each chapter. Carefully attached close to the inner margin of the book they fan out in a beautiful flutter as you flip through the pages. Larger black and white or sepia tinted period photographs adorn the pages of most chapters as well, giving a marvellous feel to these long-ago times and places.
The book's photographs, postcards and labels themselves present an evocative atmosphere, despite the text sparsity. And for those of us who also collect luggage labels, a nice way of acquainting ourselves with others that may or may never be, part of our own collections.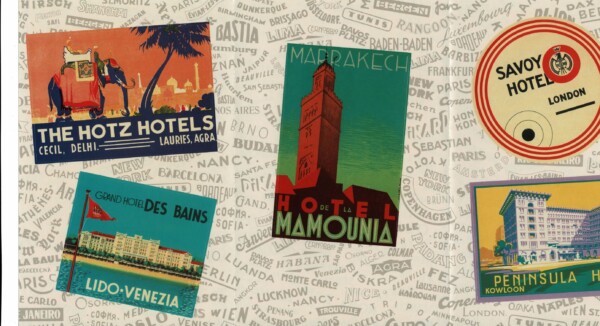 This book may be available via your local library, hopefully with the ephemera. Reviewer, Wendi Bradshaw, is in no way affiliated with the Louis Vuitton Empire – although she wishes she were.