ESA MEMBER DAVID CROWE COLLECTS ANTIQUE BOOKMARKS, AND SOMETIMES THIS LEADS TO OTHER FINDS. David writes:
Such a delightful surprise it was to find at the bottom of a box of surplus bookmarks a portrait of Jean de La Fontaine inscribed on a leather bookcover. The cover was well-used and frayed on the binding and front edges (now repaired). This bookcover (2516cm) fits most A5 books today and gives a reader additional pleasure. The leather inscriber artist is F. Sigot. The portrait is identified to be in the style of Cadil. Further information could not be found about either Signot or Cadil. Note – I believe the mark on the portrait's left chin is not a scar but from ageing leather.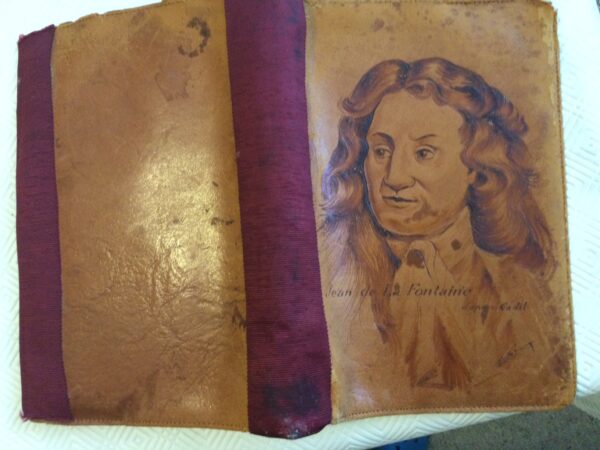 The box was given by Leo Berkelouw at The Book Barn, Berrima. I had the occasion to connect him with non-profit organisations by which he could send unsaleable books to developing countries. His thanks were the box of ephemera bookmarks about which I had enquired on previous occasions. (My practice in bookmark collecting was to enquire at both second-hand booksellers and libraries wherever I travelled.)
This causes us to enquire just who was Jean de La Fontaine (1621-1695). Wikipedia advised that he:
was a French fabulist and one of the most widely read French poets of the 17th century. He is known above all for his Fables (hence a fabulist), which provided a model for subsequent fabulists across Europe and numerous alternative versions in France, as well as in French regional languages.
La Fontaine collected fables from a wide variety of sources, both Western and Eastern, and adapted them into French free verse. They were issued under the general title of Fables in several volumes from 1668 to 1694 and are considered classics of French literature. Humorous, nuanced and ironical, they were originally aimed at adults but then entered the educational system and became required learning for school children.
La Fontaine was admitted to the French Academy and his reputation in France has never faded. Evidence of this is found throughout France in the many pictures and statues of the writer, later depictions on medals, coins and postage stamp and we can now add 'on a leather bookcover'. His popularity gives no clue to this item's provenance.
Book covers today
There are several book cover websites which will design an illustrated book cover for an author.
Custom-made leather book covers in various styles are still available (www.etsy.com/leather bookcovers) embossed with the owner's name or a gift occasion e.g., graduation. The most common leather book covers today are Bible covers. More common today are generic, uninscribed book covers of colourful fabric; also sold online (www.etsy.com/handmade bookcovers). One Christmas my wife was given a padded fabric book cover with matching bookmark which, once her current book was inserted, gave her a personal relationship to all her subsequent reading.
Could there be a collector of antique or embossed leather book covers among our readerships? Or someone who can inform us about Cadil or Signot?