"..unite and fight alongside the men.." that is how women can get better conditions according to the earliest, probably from 1935, piece of ephemera about International Women's Day (IWD) in the State Library of Victoria's Riley & Ephemera Collection. The Riley Collection is a political and social ephemera collection.
When I decided to investigate IWD, with a view to looking at the ephemera of the day, I found perhaps unsurprisingly that there is no published history about Victoria.  Joyce Stevens wrote A history of International Women's Day in words and pictures in 1985. But this has a different focus to my inquiry which is about the records of IWD. The Library records for the researcher include: newspaper reports, limited if they exist at all; some references in manuscript collections of individual women; and ephemera files. 
Records in the Riley Collection
The Riley Collection's IWD folders provide primary documents about the activities, political views and changing visual images used to mark International Women's Day in Melbourne. The folders contain material dating from 1935 to 1998 include: flyers, handbills, brochures, minutes, other working documents and a few invitations, postcards and posters.
The date range of Riley material does not match the IWD activities. In 1931, there was a march in Melbourne. There are still IWD activities in the 2010s. In the Riley Collection there is little material for the first decades and nothing for the last three decades.
Nature of the ephemera
Judging by the records in the Riley Collection, much of the 1930s-40s material is printed but by the 1970s is roneoed or photocopied. Another part of the State Library of Victoria's collection includes posters and badges.  Some posters come from the studios of Redletter Press and its sucessor in 1992, Redplanet. (Redletter combined with Another Planet to form Redplanet.) Other posters are published by the Continental Cafe which was a home for political gatherings.
Scale of ephemera production – 600 T-shirts
As is often the case with ephemera it is very difficult to know how widely distributed any items were. Occasionally a library will hold the records of the organisation or a press which will allow researchers to see the numbers of items printed.
The Library's records include some minutes from the IWD planning committee. These working documents are for 1975, International Women's Year, and provide information about the scale of activities. Orders were made for 600 T-shirts; 2,000 posters (newsprint) and 1,000 on better quality paper for sale; and 2,000 badges. The T-shirt order was split with half being stencilled with a new Australian symbol to test public opinion. (There is no information about the designs. It maybe that the non Australian symbol was the UN dove with a woman in it.)
Symbols of IWD
One expects that political flyers, posters and badges will bear an easily recognisable symbol. There are two dominant symbols on the ephemera of IWD.  The material from 1930s to mid 1970s  is free of any symbols but occasionally features drawings to illustrate themes.
The earliest appears to be a symbol adopted for International Women's Year (1975) –  a stylized dove intersected by a female symbol and an equal sign, the emblem was designed and donated by then 27 year old New York City advertising company graphic designer Valerie Pettis. It was used until the mid 1980s. It remains the official symbol of UN Women.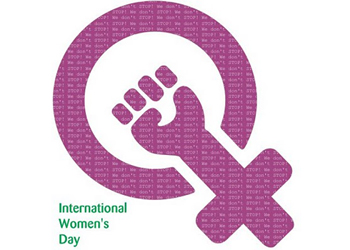 Another symbol was in use in the 1970s – a 'fist in the  Venus cross'. The earliest appearance of this is on a flyer published by the International Women's Day Collective dated 1974. The fist in the Venus cross appears on flyers from 1976, 1980-81 1985 and 1990.
Other visual identifying aspects included wearing, and using in the rare full colour poster, the colours purple (dignity), green (growth) and white (purity of purpose). These are the early 20th century sufferagette colours.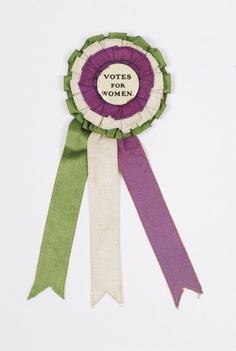 Another visual marker was spelling women 'womyn' which seemed to be limited to material from 1989.
Rallying cries
Most years the marking of IWD took up different issues. The activities of the day or surrounding week also evolved from rally and march to picnic followed by a dance party.
Working women – the speed-up is terrible [1935]
The flyer for a conference at Unity Hall in Melbourne was directed to working women – posing questions about pay rates when  'the speed-up is terrible, and hours are long and getting longer'. The IWD Committee claimed that 'kiddies are not getting enough food or clothing or medical attention………yes the Government is cutting down expenditure on Child Welfare while it wastes millions on war preparation…'.
Prevent war and demand world peace 1949
A flyer for an IWD rally on 7 March at 8 pm called on women to '..show your determination to prevent war by joining all other women on this day in our demand for world peace..'. As well as speakers, New Australians were to perform musical items. The flyer was illustrated by a photograph of children drinking milk and a graphic of a man and woman standing side by side. The Library also has a press release and programme for this rally.
Full equality in society and economic life 1958
The annual celebration of IWD was marked on 24 March starting at 5.30 pm with an international buffet and dancers, speakers and other artists. The focus was on the women of Asia and the aim 'to bring together in gatherings large and small the world over, women who desire friendship among all women, who desire full equality in society and economic life'.
Equal opportunity and human rights for Aboriginal women 1962
On 13 March, IWD was celebrated at the Nurses Memorial Hall in St Kilda Road. The brochure featured a sketch of a world globe being held up by a number of arms – different coloured skins, different clothing and jewellery. While acknowledging the relative advantages of Australian women, such as the early won right to vote, the IWD Committee notes that there is no equal pay, a denial of equal opportunity for promotion and that Aboriginal women are not even accorded elementary human rights.
International Women's Year 1975
Possible issues for the day included: no sexist bias in advertising; no discrimination for black and immigrant workers; peace with Chile, South Africa, New Guinea and Vietnam. The records include a programme for a reception honouring pioneer women at the Old Custom House; the opening address was by Prime Minister Whitlam. There was a range of entertainment and interviews conducted by journalist Claudia Wright.
The 1980s
The IWD community wanted Trades Hall to do more for working women. Aboriginal issues got attention during the bicentenary celebrations. Efforts were made to include migrant women. By the late 1980s, the IWD Collective was concerned that the day had lost its cutting edge and was seen as a day of entertainment and an annual catchup. But this seems to have been unsuccessful as 1989 saw picnics, luncheons, a dance, fundraising dinner, bands and comedians hold sway.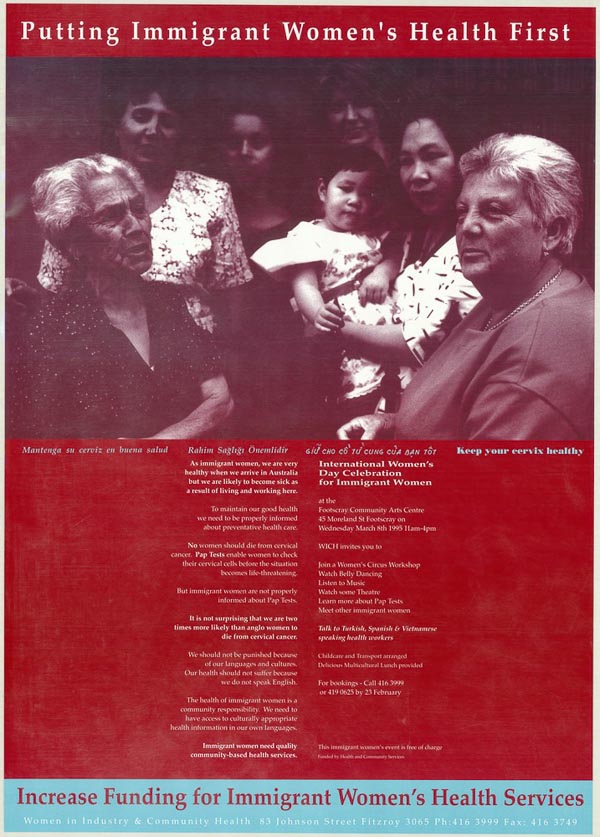 The 1990s
By the 1990s, IWD seemed to have a level of support and public visibility not seen recently. Posters were published by government departments, events included films about women (Chocolat); exhibitions at the Australia Post Gallery, book readings, concert at the Arts Centre, play at Malthouse Theatre. The groups supporting and using IWD included the Australian Union of Women, YWCA, the Victorian Women's Trust and the International Women's Development Agency. Issues included the Gulf War, the environment. There was a shift from employment issues to health, welfare, public life.
References
Butler, Roger. Poster art in Australia: the streets as art galleries – walls sometimes speak. Canberra: National Gallery of Australia, 1993.
Riley Collection, International Women's Day files, State Library of Victoria.