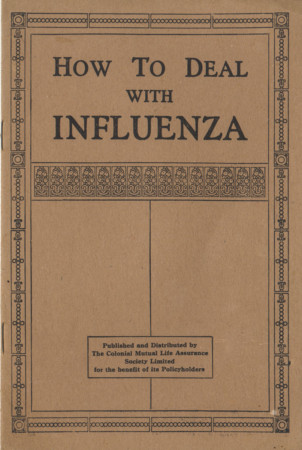 COLONIAL MUTUAL PUBLISHED A SERIES OF BOOKLETS ABOUT HEALTH ISSUES INCLUDING HOW THE INFLUENZA EPIDEMIC WAS MANAGED IN BRUNSWICK, VIC.
STRANGE TIMES 2020 – have we been here before?
This is one of a series of posts inspired by the 2020 Covid 19 pandemic. You can also see an article about the ephemera of the Spanish Flu in Australia in the soon to be released issue of The Ephemera Journal of Australia. OK there may be a further delay as our printer probably can't operate until mid September. You will receive a copy if you join the Society $40/$25 a year or you can buy a single issue for $20 including postage.
This publication is from Colonial Mutual Life Assurance Society Limited (founded in Melbourne in 1873). It is one of an informal series 'Published and Distributed by The Colonial Mutual Life Assurance Society Limited for the use/benefit of its Policyholders'.
This 10 page stapled booklet looks back at the 1918-19 has a simple cover design and may be an early venture. The full booklet is reproduced at the end of this post. The booklet covers: the onset of influenza; treatment; and prevention with a lengthy study of a successful community effort by the City of Brunswick.
Brunswick tackles influenza successfully
The preface notes that the capital cities had 'no machinery in the shape of emergency hospitals for dealing with any widespread epidemic'. In Brunswick:
an emergency hospital was established in the Central State School for cases that could not be treated in the home;

district inspectors were sent out urging early notification of cases and advising that treatment was free;

as it was an industrial suburb, breadwinners were 'in fear of debt' and so 'in many cases endeavoured to fight off the disease in order that his weekly wage should not suffer'.  The council decided to meet rent and household bills during treatment and convalescence and to pay a further week's wages to carry through to the next wage payment;

with the second wave a larger hospital was needed and with the assistance of the Department of Defence this was opened at Broadmeadows – 150 beds – it was set up over one weekend;

all medical men in the municipality co-operated;

ambulances and private cars driven by citizens were utilised to transport patients.
The other health advice publications include:
Tonsils and Adenoids, 1915, 4 pages, W.S. 5. Deakin University has a digitised copy – click on the titles to see Deakin's copies. The following are also held by and digitised by Deakin: Whooping Cough, W.S. 1 likely published in 1920 as it refers to statistics for the year ending 1919, Facts About Measles, W.S. 6, and About Mumps, W.S. 8. These last two are identified by Deakin as published in 1930 but the reason for this date is not apparent from the text.  The publication date of 1915 assigned by Deakin to Tonsils and Adenoids seems unlikely as no. 5 in a series is likely to be published after no. 1 which can be dated with some certainty as from around 1920. On the other hand Tonsils and Adenoids is in quite a different style to the other booklets held by Deakin. Any thoughts, information, comments welcomed;
Your Teeth and Your Health, 1922, 16 pages, with a cheery cover and technical illustrations. The State Library of Victoria has a digitised copy – click on the title to see the full booklet;

How to brush

Pain associated with different teeth

Home Nursing,

thought to be three editions, two in the 1920s and one in the '30s. The State Library of Victoria has a digitised copy of one they date as the 193- .

It has a plain cover and the same illustrations about making beds as are given in Influenza. The hairstyles of the patient has been changed between the books, hard for this writer to use as a guide to the date of publication but a former colleague from the State Library of Victoria has advised that the Influenza patient looks like every WW1 soldier's girlfriend and the Nursing patient looks like a flapper, thus 1920s/early 30s;

How to Deal with Influenza, booklet, inside pages; collection of Andrew H.

Later, 1920s

The Colonial Mutual Life Cookery Book,

thought to be four editions from 1920s (48 pages) , 1930s (70 pages), 1950s (70 pages). They are listed in Hoyle's Annotated Bibliography of Australian Domestic Cookery Books. The 1920s and 1950s editions can be seen online at the State Library of Victoria . The 1920s' edition has a cheerful cover of a woman holding a steaming pie with utensils strewn artistically about her. The 1950s' cook has a slightly harried look and is thin despite or because of the volume of food she is piling in the oven. The first part of all books have advice about what food does for the body and how much and what to eat; then comes the recipes;

1950s

What you should know about cancer, c. 1924-6. Has an interesting cover and many line drawing illustrations;

Rates of cancer by state and over time

Signs to watch for

The Child and its Welfare, thought to be three editions 1928, 1929 and 1940, all 24 pages with no illustrations. No digital version available as at September 2020;
What to do about Overweight: A Booklet of Interest to Those Above Normal Weight, 35 pages. The date of publication is identified as 1930. There are some wonderful exercise illustrations and many tables about calories and appropriate weight;
Family Welfare and Home Nursing, 32 pages; the date of publication identified as 194-. 
Here is How to Deal with Influenza in full.